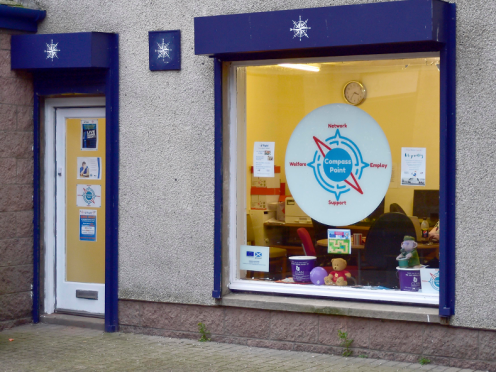 A new community group has opened its doors in Peterhead with the aim of getting the region's workforce back into jobs.
Compass Point has launched its offices in the town centre which it hopes will also offer people from across Buchan assistance with finances and benefits.
The project, which will operate alongside Aberdeenshire Council and NHS Grampian, has branded the central location of its new centre as an ideal base.
The office offers access free access to the internet and telephones.
A spokeswoman said the new outlet was a "one-stop shop" for advice.
She added: "Through Compass Point, you can get help with issues such as debt, benefits, housing, employment. You can also get help with with using and accessing computers.
"They've already helped people with benefit claims, debts, job applications, computer awareness, budgeting, saving money and volunteering."
Angus McCurrach, the group's coordinator, added: "This is a very exciting development for Peterhead.
"All the partner organisations are committed to working together to ensure that people can have easy access to support and information.
"Already, there is a buzz about the place with lots of folk popping in to show support for what we are doing."
Compass Point, based at 30 Back Street, is managed by a partnership which includes The Foyer, North East Scotland Credit Union, NHS Grampian and other organisations.
The initiative comes following mass lay-offs in the north-east which began in 2015, when a fish processing plant axed hundreds of jobs.
At the time, the Scottish Government was required to step in and create a task force offering advice to people about getting back into work.