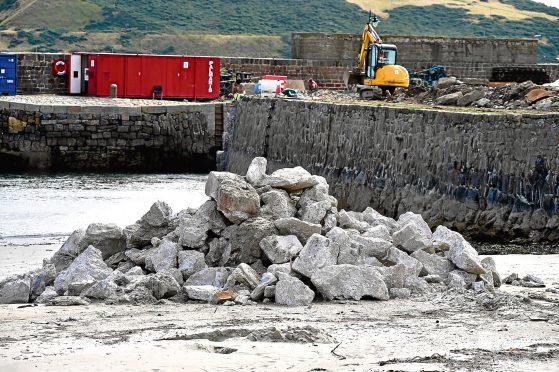 Council chiefs have admitted the collapse of a historic north-east pier, while engineers were working to strengthen the jetty, has left regeneration efforts high and dry.
In a new report, Aberdeenshire Council's regeneration boss, Christine Webster said that, while efforts to boost the economies of Macduff and Fraserburgh were succeeding, Banff projects had been affected by the pier fiasco.
A section of the Railway Jetty at Banff marina first collapsed at the beginning of the summer and the harbour has been intermittently closed to sailors ever since.
In July, work to repair structural damage led to a further collapse of a 30-tonne slab of masonry and marina users have been heavily restricted in accessing the amenity.
Creating a "more vibrant" harbour for Banff is a key priority in the authority's regeneration programme – a flagship policy for the council.
But, in her report to the Banff and Buchan area committee, Mrs Webster said although designs for a new slipway have now been completed, work had stalled.
She said: "Unfortunately, until the repair to the Railway Jetty is complete, it will not be possible to construct the slipway.
"The slip of the pier at Banff harbour has inevitably delayed plans to develop the facilities as per the Banff harbour business plan.
"However, as the immediate problem has now been temporarily repaired, more progress can be made over the next year to progress the expansion of the slipway and compound."
Banff councillor John Cox, vice-chairman of the region's infrastructure committee, was critical of the authority's response to the structural damage to the pier.
And now, he has called for a renewed regeneration push in the region.
He added: "There is work on-going. Now, the general public are looking for more visible things such as job opportunities.
"We need measurable success, creating new jobs and new businesses."
He added that a priority must be tidying up vacant shop premises in Banff's historic town centre.
The local area committee will meet on Tuesday to consider regeneration progress in the north-east.