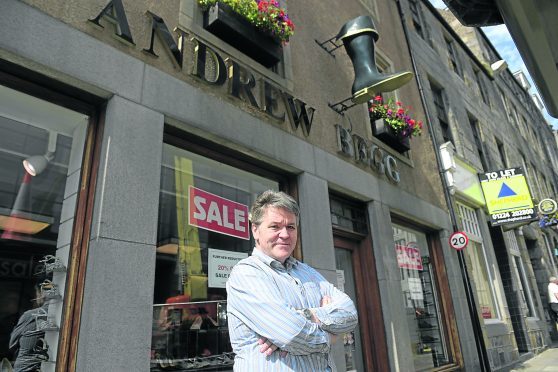 A shop owner insists that the city council must provide Upperkirkgate businesses six months' rates relief or some may disappear altogether.
Shops and pubs in the area have suffered drops in trade of up to 30% due to the £3.2million Broad Street works, which could rumble on into next summer.
Now Andrew Begg, boss of Andrew Begg Dancewear, has called for the council to take urgent action to support businesses before it is too late.
He said: "We have been dealing with this for six months. The council should be giving us a rates holiday for six months, but they would have to pay now or some of us won't be here.
"I think I'll survive the next six months by the skin of my teeth, but there are others who are feeling the pinch even more than me.
"The council should have got a grip of this situation much earlier on. The rates for the area are much higher than what they should be, given the opportunities available to us."
It was hoped that the road would be reopened in December after numerous delays, but the discovery of an underground concrete slab and blocked drains have meant a road closure has had to be extended until January.
Eric Owens, the council's head of planning and sustainable development, has said it could now take until "spring or summer" for the Broad Street project to be completed.
The road was closed for the final time to cars in March to set up a shared space for buses and bicycles. The traffic lights at Upperkirkgate and Gallowgate are to be removed and replaced with a shared surface for vehicles and a roundel – a mini-roundabout where pedestrians are given priority.
There will be a Toucan crossing at the Union Street end.
The design forms part of the 25-year City Centre Masterplan and is funded by the local authority, Marischal Square developer Muse and cycling charity Sustrans.
Aberdeen City Council confirmed that the issue of compensation is expected to be discussed by council officers in order to help the business owners on Upperkirkgate.