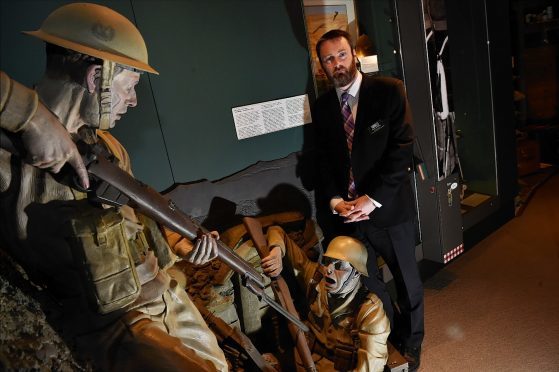 A campaign to save a cash-strapped Aberdeen museum from closure is already approaching the halfway mark.
In June the Gordon Highlanders Museum revealed it needed to raise £300,000 by 2020 – £100,000 a year – in order to stay open.
While visitor numbers have been rising, the oil and gas downturn has hit the five-star attraction in the pocket.
"Dear people of north-east: Volunteer writes open letter as appeal continues for Gordon Highlanders Museum
The museum's main source of income has been from corporate events including dinners, training days and conferences.
However, the difficult conditions felt across the north-east have led to the number of these bookings dropping by 60% since 2014.
The Gordon Highlanders Museum is the only five star-rated VisitScotland attraction in Aberdeen, and tells the 200-year story of the regiment from 1794 through to its amalgamation with others in 1994.
Three months into its fundraising campaign, which is being backed by The Press & Journal, the museum has banked around £135,000 – almost half of its total target.
This has been gathered through donations and ticket sales from a number of fundraising events, including performances from the Granite City Brass Band and singers Marisha and Jim Addison.
Bryan Snelling, the museum's chief executive, said: "We didn't expect to be this far on so early in the campaign and it is certainly welcome, but we can't rest on our laurels.
"We have had a couple of big donations, and many one-offs which have ranged from the tens to the thousands of pounds, and we have many monthly donations coming in as well.
"We have had a couple of excellent fundraising events and have some ideas for next year in the early stages.
"We would welcome any offers of support, and will work with anyone looking to help us."
Museum staff are now gearing up for a fundraising ceilidh at the Meldrum House Hotel on Friday, November 3, with music provided by function band The Limit.
Tickets cost £20 including stovies, and can be bought from the museum reception, or www.gordonhighlanders.com.