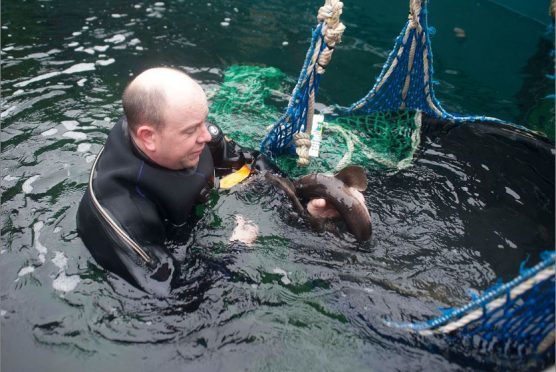 These pictures show the moment when residents of one of the north-east's most popular tourist attractions returned to their watery home.
The team at Macduff Marine Aquarium has been rebuilding its exhibits to mark its 20th year, including refurbishing the central 90,000-gallon tank.
The project had been due to finish with a launch party earlier this month, but the event was postponed while final works on the main kelp tank were carried out.
Yesterday, the aquarium's marine creatures were given a first look at their new digs. Halibut pair Jemima and Hank were the stars of the show as they were conveyed through the tank's open roof.
Other returning residents included lesser spotted dogfish, salmon, pollock, two wolf-fish and two blue-mouths.
A spokesman for the aquarium said: "It's great news – the fish have returned. We will be opening on Saturday, September 23 at 11am and we would be delighted to welcome the public back to Macduff Marine Aquarium after our kelp tank refurbishment."
Local councillor Mark Findlater welcomed the news.
He added: "There were a few snags but I am really looking forward to seeing it. There is going to be a grand opening soon.
"Macduff Marine Aquarium is one of the assets we have in the town and in the area – 48,000 people a year go through the aquarium and it is also a great educational asset."
Mr Findlater maintained there was always something different to see in the visitor centre and added: "Let's hope we can get another fantastic 20 years out of the aquarium."
The rearranged Big Splash party to mark the attraction's 20th anniversary will be held at the end of October.
Macduff Marine Aquarium, which is owned and operated by Aberdeenshire Council, welcomes nearly 50,000 visitors every year. It focuses on marine life which is native to the Moray coast.