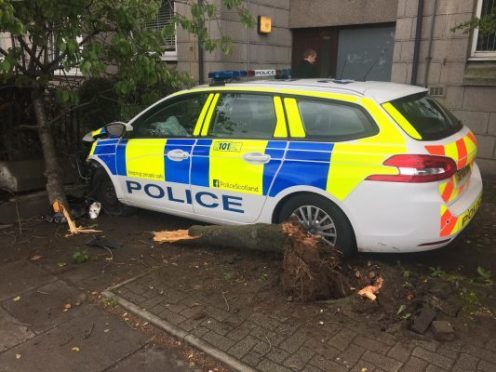 A police officer who was involved in a serious crash while responding to a 999 call has failed in a bid to have her careless driving conviction quashed.
Constable Lesley McAllister's police collided with a red Mini Cooper at the junction between Ashgrove Road and the A96 Aberdeen to Inverness road, at Kittybrewster.
The Peugeot 308 emergency service vehicle mounted the pavement and smashed through a tree before hitting a wall on Powis Terrace.
Neither McAllister – nor the driver of the Mini, Sarah Scott – were hurt, but another police officer in the passenger seat was taken to hospital with leg injuries.
Trees had to be cut down to allow the police vehicle to be recovered and officers guided traffic coming out of Ashgrove Road for nearly two hours while the scene was cleared.
Both drivers were found to have been at fault during a trial at Aberdeen Sheriff Court and were convicted of careless driving, had their licences endorsed with four penalty points and fined £400
But McAllister appealed the sentence, on the grounds that "special reasons" existed for her careless driving as she was reacting to an emergency.
Papers now made public by the Court of Appeal in Edinburgh lay bare the circumstances behind the crash, which happened on June 28 last year.
The document says: "The police vehicle, which was displaying blue lights and sounding its siren, was proceeding along the A96 answering a grade two emergency call.
"Both vehicles had been travelling in the same direction on the A96 towards the city centre.
"The driver of the mini signalled her intention to turn right and took up her correct position.
"The police vehicle was travelling in the same direction, and was on the wrong side of the carriageway, overtaking stationary or slow moving vehicles.
"As the police vehicle approached the junction with Ashgrove Road, Scott commenced her right turn and the vehicles collided.
"A collision was almost inevitable given the circumstances."
After being found guilty, Scott was told she should have "registered the existence of the warning siren" and waited before turning.
And it was judged that McAllister "drove without due care and attention".
Sheriff Principal, Mhairi Stephen QC, has now rejected the policewoman's appeal and backed the original sentence.
She said: "The appellant, in the full knowledge that she was travelling on the opposing carriageway and that the co-accused's vehicle was intending to perform a right turn which would take it across the path of her vehicle, took no steps to reduce or avoid the consequences arising if the co-accused performed her signalled manoeuvre."