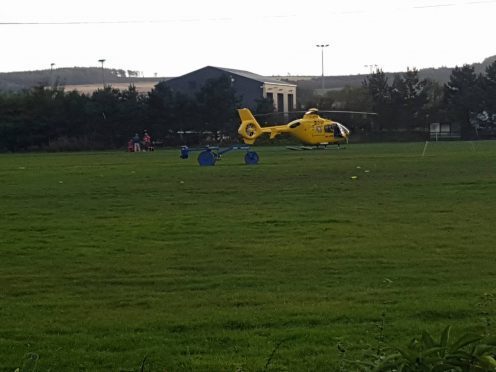 A rugby player is recovering after being airlifted to hospital with neck injuries.
Ross Sutherland player Lee McLellan was 77 minutes into the match against Mackie's FP at the Redclock pitches in Stonehaven on Saturday when he was hurt.
An air ambulance from Inverness was dispatched and arrived at the scene at about 5.30pm, and flew the 38-year-old, from Invergordon, to Aberdeen Royal Infirmary.
A spokesman for the club said Mr McLellan had sine been discharged from hospital, and was recovering at home.
Stephan Walker said: "We kept him immobilised and wrapped up waiting for an ambulance for an hour and 10 minutes.
"When he saw the helicopter landing, he said – 'I hope that's not for me'. We were told they had come from Inverness.
"He got out at about 10pm, the rest of the team had waited on him – so he got the minibus back up the road with them all."
Mr Walker stressed his injuries were not too series, adding: "He had a cat scan and was given pain relief, but thankfully he's just had what we term a 'stinger' – a bit like a dead arm – the feeling has returned to his arms and fingers now."
With just three minutes left of the match, the referee asked both team captains if they wished to proceed and it was decided to carry on, but on a different pitch, and finish the game.
The final score was Mackie's FP 42, Ross Sutherland 19.
Despite repeated attempts, nobody from the Scottish Ambulance Service was available to comment last night.
Elsewhere in the Caledonia league, the Aberdeen Wanderers versus Grangemouth match was abandoned after 60 minutes after Aberdeen player Shaun Hume suffered a broken leg, resulting in a 22-22 draw.