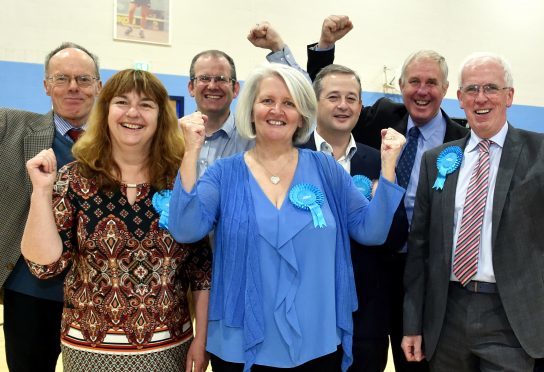 Aberdeenshire Conservatives were celebrating yesterday after keeping hold of a council seat and winning the Inverurie by-election.
Tory leaders hailed the "fantastic" result after the party increased its share of the vote by more than 12% – maintaining the balance of power with 23 members in the coalition administration.
Lesley Berry was elected to the Inverurie and District ward, which was left vacant after Colin Clark stepped down when he was elected as MP for Gordon in June.
Mrs Berry responded: "I'm really excited; I think we have had a good win. The numbers have proved this is a firm Conservative area today – I think the tide has turned."
The Scottish Conservatives took 1,672 first preference votes (48.35%), which was up from 35.95% in May's local elections.
Jim Gifford, leader of the Conservatives group in Aberdeenshire, added: "We are delighted to have kept the seat in Inverurie; it is the fourth election or by-election in a row that we have won here and we now have a cracking candidate in place. She's very well known locally and I know she's looking forward to getting into the administration."
The poll was triggered by the resignation of Mr Clark after he ousted long-term incumbent, Alex Salmond at the general election.
Mr Clark said yesterday: "This is a fantastic result for the Scottish Conservatives and marks four in a row for the party in recent elections in Inverurie.
"Together with the recent general election result, this confirms that people in Inverurie see the Scottish Conservatives as a party they trust to deliver. It's a trust both me and Lesley intend to repay."
A total of 3,445 votes were counted at the Garioch Sports Centre yesterday morning, representing a 30.9% ward turnout.
Aberdeenshire chief executive, Jim Savege, acted as returning officer and announced Mrs Berry as the winner with 1,672 votes, with SNP candidate Elaine Mitchell receiving 1,146, Liberal Democrats' Scott Bremner on 295, Labour's Sarah Flavell with 276 and the Green candidate, Craig Stewart on 56. 26 votes were spoiled.
Mr Savege said: "Today's appointment brings Aberdeenshire Council back up to full democratic strength and I'd like to thank all of the team involved in the smooth running of the by-election."