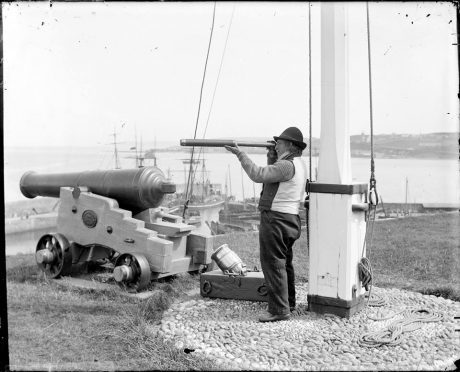 Users of a recently revamped north-east library are being asked to vote on how they want it to be decorated.
Aberdeenshire Council has reopened Banff Library after a four-month renovation period and is seeking public opinion to influence what future customers will experience when they walk through the doors.
A public exhibition of historical photographs had recently been hosted at the building and the authority has chosen seven of those that could adorn the walls.
Every image represents a period of the port's history and the three with the most votes will be mounted.
Gillian Owen, chairwoman of the council's education committee, said: "I would urge as many people as possible living in the Banff area to cast their vote to make this decision as representative of the community as possible."
Mark Findlater, the group's vice chairman, added: "It is going to be a really hard decision to choose which of these fantastic pictures will be displayed on the library walls.
"They are all windows into the historic past of old Banff which will bring back loving memories for some and inspire others to find out more about their story."
However, the new-look facility has moved on from the past and now boasts new digital resources and even a 3D printer.
Other improvements include access to an upstairs museum through a lift, along with an upgrade of the electrics and security systems throughout the premises.
As part of the refurbishment, the main library room has also been refreshed with new furniture including seating and themed graphics for the children's area.
The reading room also has new sofas with built-in USB and power sources for people who want to relax or work on their own devices.
And the library now features a table and chairs kindly donated in memory of the late Mary Masson by her family.
Mrs Masson was a keen library user and wanted to share her love of libraries and reading with the wider Banff community.
Votes can be cast until October 31 at: www.surveymonkey.co.uk/r/HFKW6CM