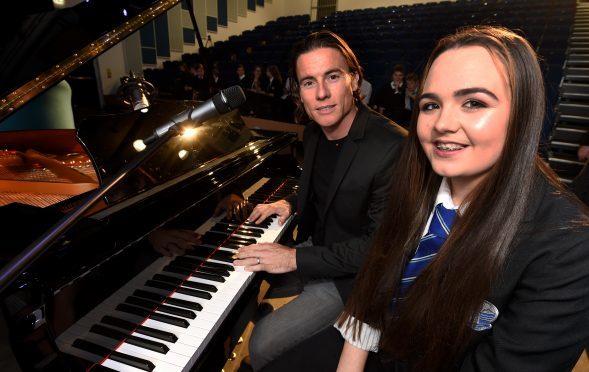 Alford Academy welcomed a special guest to the school this week when two-time world superbike champion-turned-rock musician James Toseland spent the day with pupils and staff.
The visit was arranged by S4 pupil Madeleine Lenthall, 15, who has followed Mr Toseland's musical career and struck up a friendship with the racer turned rocker.
She said: "I have seen James performing live with his band and have been lucky enough to interview him for my rock music blog, Denim and Blether.
"I study piano and James has been a big inspiration to me. He has given lots of encouragement and he even sent me some video piano lessons to help my playing.
"I felt that my fellow pupils would be inspired by James' story of how succeeded in sport, then built a new career in music after injury forced him to retire from racing at a young age."
Acknowledging that he had been inspired by Miss Lenthall's passion for music, Mr Toseland said he was "thrilled" to accept the youngster's invitation.
And he added: "It's been exciting to meet the pupils and staff at Alford and chat and answer questions about my career.
"After a broken bone in my wrist, the bones in my hand have fused together, which restricts the movement and it meant I had to retire from motor sports."
The sports star has subsequently reinvented himself as a musician and has been touring with his band Toseland.
Alford Academy Head Teacher, Moira Milne said: "I was delighted to welcome James to Alford Academy.
"Both sport and music are important aspects to life at our school, so to have a world champion and professional musician spending time with us is wonderful.
"As well as discussing with pupils what it takes to get to the top, I am delighted that James also took part in a music workshop.
"And he played the piano that our former pupil Emeli Sande kindly donated to the school."