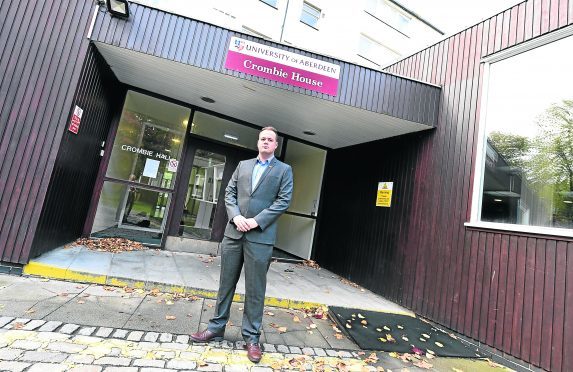 A block of Aberdeen University flats is lying empty for the first time in decades as students turn away from catered accommodation.
Crombie Johnston Halls, at the university's Old Aberdeen campus, has offered students their own rooms and freshly prepared meals for 50 years.
But this term, the 402-room halls of residence complex is vacant and locals are unsure what the future may hold for it.
The decline in the popularity of the halls has been partially attributed to shifting attitudes towards catered living, with students increasingly preferring to fend for themselves in private properties or self-catering complexes.
But a spokesman for Aberdeen University said the expansion of the Hillhead halls of residence, beside Seaton Park, has also played a part.
He said: "Our multimillion pound investment in the new Hillhead Student Village has allowed us to consolidate the bulk of our student accommodation in one location.
"Our investment there, combined with our students' preference for self-catering accommodation, means that we are no longer providing accommodation at Crombie Johnston halls.
"The university is considering options for the future use of the building."
The Johnston halls previously offered rooms for 270 students, and Crombie housed 132. Both were built in the 1960s.
Gordon Mutch, chairman of Old Aberdeen Community Council, hopes that the buildings could be refurbished and brought back into use as student flats.
Mr Mutch said: "Realistically, more students are preferring to go with outside providers for accommodation now.
"The closure of Crombie Johnston is a concern, and we would like to see the site continue as halls of residence following a revamp.
"Times move on, but I think they could have a future if revived as self-catered accommodation."
Old Aberdeen councillor Alexander McLellan suggested developers may now have second thoughts about building more student accommodation in the city.
He said: "I was surprised to find out that the on-campus halls were closed due to lack of demand for catered accommodation.
"Although, I understand the university has to adapt to the wants of its students.
"This makes me wonder how many more purpose built student accommodation buildings Aberdeen actually needs."