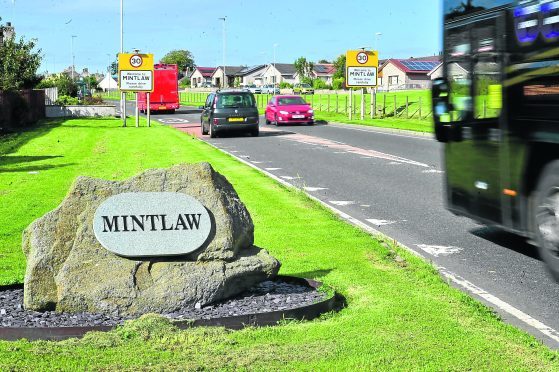 Plans for a massive building project which could increase the size of a north-east village have been lodged with Aberdeenshire Council.
Banchory firm Bancon Developments wants to build more than 500 homes in Mintlaw over the next decade and two months ago won the support in principle of the local authority.
It has now officially submitted a planning application with the council which also sets aside land for a new care home, school and shops.
Last night, the firm's land manager Graeme Reay branded the Nether Aden scheme as "exciting" and said consultations with the community had resulted in the bid being brought forward.
"As we go forward, we will continue to work with the local authority and all other interested parties to ensure that an attractive and successful development is delivered over the coming years," he added.
"Bancon are delighted to be involved in this project and look forward to working in the community for years to come."
Public consultations on the scheme, however, had raised concerns about the safety of the road network in Mintlaw.
Traffic Scotland also feared that the development will "exacerbate" the congestion on the A90 Fraserburgh to Aberdeen road which cuts through the village.
Aberdeenshire Council hopes to prevent this by conditioning a cap on the number of homes that can be built in each phase, to allow for route upgrades as and when required.
And in a report submitted alongside the latest planning application, a spokesman for Bancon has said the firm is confident that the development would have an emphasis on road safety.
He added: "With the foot and cycle path network proposed, and the existing layout of the village, the development of Nether Aden will encourage walking and cycling, especially for school trips."
The scheme has been supported by the local community council.
David Coull, the group's chairman, said it could be a "really good" development.
"There's a lot of community space in it and hopefully it will bring some business into the village for people who actually stay here," he said.