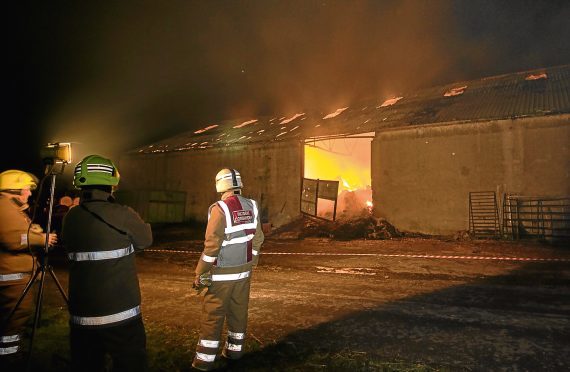 A fire investigation was launched at an Aberdeenshire horse breeder yesterday after a barn fire re-ignited, destroying hundreds of bales of hay.
The emergency services were first called to Balhagarty Stud, south-east of Laurencekirk just after noon due to reports of around 20 bales on fire in a shed. The blaze was extinguished just after 1pm, however fire teams were called back to the farm just after 4pm, when the owners of the family-run site discovered the fire had restarted.
Three fire appliances and a water carrier were dispatched to the scene, and a spokesman for the fire service said it is estimated that around 700 bales were caught in the blaze, however no people or horses have been injured.
Fire crews were still in attendance at 11pm yesterday.
The horse breeder, which is based at East Balhagarty Farm, has been the home of Jim and Gail Sephton and their family for the past 20 years.
Mrs Sephton said last night: "It was a shed full of straw that caught on fire, thankfully there were no livestock in the shed and nobody has been hurt.
"I'm not sure how many bales we've lost, but there must have been hundreds that caught on fire.
"We're a bit shaken up, but the important thing is that nobody and no animals have been hurt, so we're thankful for that."
Last night, a police spokesman said that a joint investigation with the fire service has been launched.
The spokesman said the emergency services were making "initial inquiries", and that "the cause of the fire is in the meantime unexplained."
Anyone with information is asked to contact the police on 101, or Crimestoppers on 0800 555 111.