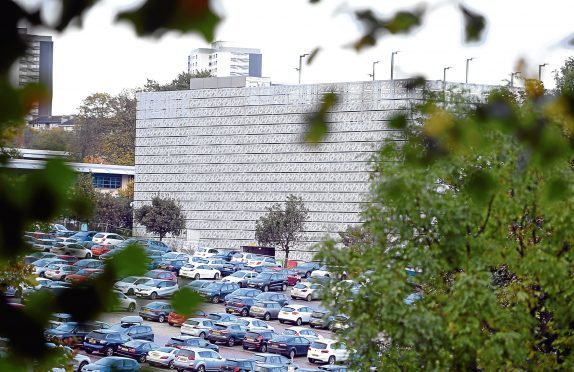 A final opening date for a long-awaited hospital car park has still not been set – despite the facility being due to open last month.
Work began last October on the 1,000-space car park at the Foresterhill Health Campus after oil and gas tycoon Sir Ian Wood pledged £10million to pay for construction.
A report presented at August's NHS Grampian board meeting said it was anticipated that the car park would open in September.
But a health board spokeswoman has confirmed that the timescale is still to be finalised.
It is understood that there have not been any major delays to the work on site and most of the hold-up has been around the development satisfying council planning conditions.
Last week a keen-eyed Press and Journal reader spotted that one section of cladding on the structure had been misplaced and sent in a letter and photograph. The spokeswoman said that the panel had been replaced.
The NHS Grampian website advises: "As planned, the adjacent staff tarmac car park has been given over to the construction team and a small number of visitor spaces. Visitor parking will be significantly reduced until the expected project completion due in autumn 2017.
"Given the existing pressure on car parking on the site, visitors are encouraged to use alternatives such as public transport, parking off site or arranging lifts to and from the campus."
Once open, the car park will only be for the use of visitors and patients – a condition of the project going ahead.
About 13,000 vehicles visit the site each day, including those belonging to staff, often causing cars to spill over into nearby residential areas.
Jamie Weir, of patient rights group Pact, said: "The sooner it is open the better, for patients, staff and visitors. "