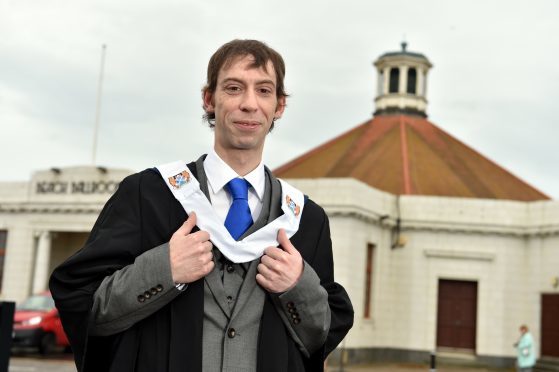 Callum Hendry was 32 when he decided to return to full-time education to pursue his passion for art – and yesterday urged others considering it to "just do it".
After four years at North East Scotland College (NESCol), Mr Hendry has no regrets about his college experience, which has helped him develop "professionally, personally, and creatively"
The former Banff Academy pupil said: "I decided to apply to college to follow my dream. I was working in a mundane job and had saved some money so I decided to give it a go.
"College has really given me time to mature and develop as an artist. The four years I spent there has given me a good grounding in all art practices and I feel like I now have a full scope and knowledge of art.
"I've learned new practices, and new ways of looking at and appreciating art. I was really inspired in my creativity to try different ways of working; I've grown in confidence."
Whilst at college, Mr Hendry's talents were recognised not just by his lecturers, but also by industry professionals. His work at the creative arts end of year show earlier this year gained him a highly commended award, and also put in motion an internship with the Aberdeen-based Anatomy Rooms.
Jim Ewen, the multi-arts production and studio space, visited the show in which HND students from a range of creative courses exhibit their best work. After seeing what was on show and liaising with NESCol lecturers, they offered Mr Hendry an internship following the completion of his course.
And Mr Hendry said it had been an invaluable experience, adding: "The Anatomy Rooms gave me real practical experience in a professional art studio, with 24 hour access to work, artists, peer groups and shows. It really gave me a taste of what it is to be a professional artist and it massively opened my eyes – it was a brilliant experience."
Mr Hendry has since begun studying contemporary art practice at Gray's School of Art, where he gained accelerated entry into the second year of the course.
Continuing to enjoy every minute of his education, he is extremely glad he decided to follow his dream.
He said: "I'm just trying to learn and absorb as much as I can. I'm so glad I decided to just go for it."