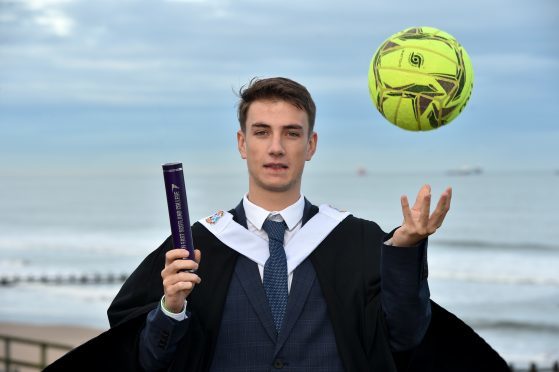 One Aberdeen based student achieved huge success during his time as a sport student at North East Scotland College by coaching the College's football team to win the British University and College Sport Men's Scottish 6C League earlier this year.
Graduating yesterday with an HND in Coaching and Developing Sport, Ryan Docherty, 20, said he had been keen on sports since an early age.
He said: "I chose the sports coaching course as it offered an excellent selection of modules which would allow me to work with athletes first hand and cover the theory side of the topic, which I was also interested in. The units also tied in directly with a work experience placement that I had completed a few years prior with Bristol city."
Whilst at NESCol, he was one of two first year students in the College football team and took over as coach after showing "great maturity" on the pitch.
He said: "Coaching gave me the opportunity to put things I was learning about into practice in both games and training sessions. This made it rewarding, seeing individuals develop as well as the whole team. It also helped me improve my own skills in planning and organisation by having to arrange referees and pitches so that games could go ahead."
Under Mr Docherty's lead, the NESCol Football team, made up of players from a range of courses, became winners of the British University and College Sport (BUCS) Men's Scottish 6C League and were undefeated in a league of six other teams, including RGU, University of Dundee, and St Andrews University.
Speaking of the assistance from lecturers and the College Sports Coordinator, Mr Docherty said it was a huge help, as was the hard work ethic instilled throughout their entire campaign.
He said: "The league was highly competitive and there were no easy fixtures. We were helped a lot with the talent we had within the college, which gave us a strong squad to pick from. Each training session was specific to how we wanted to play, and used the input of players to ensure sessions were specific to team needs."
Now at Aberdeen University studying Health and Exercise Science, he continues to play football and still helps out with the university teams.
Although he has yet to decide what he wants to do after completing his degree. He said: "I would personally like to work with professional athletes in a sporting analysis role, or as a teacher of physical education. Both of these careers became clear to me at college as I got to experience both first-hand in fitness conditioning units and in working with schools during my first year graded unit."