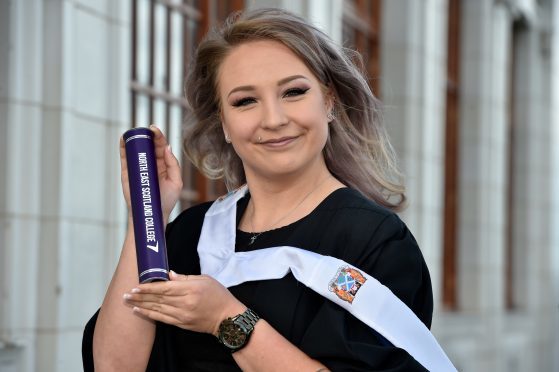 When she arrived in Scotland at the age of 12, she spoke barely any English and knew nobody in the country other than her own parents.
So, Evelina Ivanova's start in the Scottish education system was not as smooth as many of her classmates.
But Miss Ivanova's determination to succeed has seen her thrive over the years and now, aged 23, she has graduated with a HND in social sciences from NESCol.
An only child from Peterhead, Miss Ivanova, said she had worked hard to make her parents proud. She said: "Having come from a working class family where education was regarded as something of a privilege, the possibility of being able to even try to gain an education gave me a lot of determination."
"I watched both of my parents working hard in a fish factory, they never had the opportunity for further education and this made me determined to learn the language, study hard, stay focused and achieve my goals in life."
Initially Miss Ivanova set off on the path of a childcare qualification, hoping to become a primary school teacher, and when she found that this was not the right course for her, she had to rethink her aspirations and applied for social sciences.
"I fell in love with sociology," she said. "Coming from a different culture, I began to notice how truly unique we are in terms of behaviour, values, activities and social norms."
Her passion for sociology has continued past the completion of her college qualification, and she is now studying the subject at Aberdeen University.