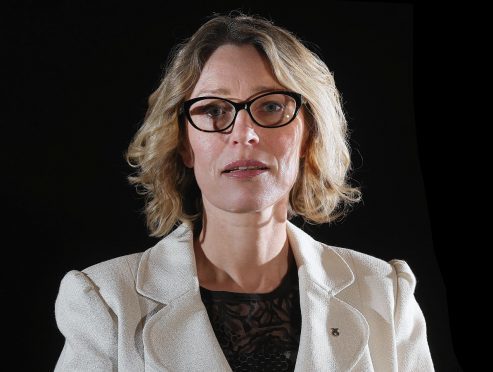 A north-east MSP has spoken out about the "disgusting and lewd" harassment she was subjected to by a boss at a company where she worked.
Gillian Martin, the SNP MSP for Aberdeenshire East, said that the verbal comments made to her and female colleagues over several years had left her "embarrassed and humiliated", and contributed to her quitting the firm.
And she said that another senior male colleague thought it was "terribly funny" to pull a cord on her dress, which subsequently undid it whilst she was dancing.
Ms Martin revealed her experience as a controversy continued to engulf Westminster and Holyrood over the harassment of women.
The MSP, who succeeded Alex Salmond in the Aberdeenshire East seat at last year's Scottish elections, said it had "always been an urgent problem and it is everywhere", and that it should not have taken the Harvey Weinstein scandal to trigger calls for action.
She told the Press and Journal last night that the harassment she had suffered was "largely of a verbal nature", and involved "disgusting and lewd remarks sustained over many years in many situations".
Ms Martin said: "I was not alone in being subjected to this kind of remarks and indeed the boss set the tone for some other senior men in the organisation who believed it to be OK to behave in a certain way towards junior female colleagues.
"It was only physical once and not by the main perpetrator, but by a senior male colleague who thought it was terribly funny to pull a cord on my dress that undid it whist I was dancing.
"I have often felt that I should have taken that further but the culture was not one where I felt I'd get support.
"In the end, over time, I'd grown very tired of the pervading culture and one final remark, maybe no worse than the hundreds I'd been subjected to before… designed to make me feel embarrassed and humiliated in front of my workmates, was the difference between me applying for another job I'd been mulling over and staying.
"It was a cumulative effect. I had had enough."
Ms Martin said she had mentioned her experience in public forums before, but that people were "only interested now because I'm an MSP".
Asked what action she believed was required to tackle the problem, the MSP said: "This has to be a debate about harassment, not just a story about goings-on in parliaments and hotels, but about how we can ensure men of all ages know how to behave in a way that won't compromise women, physically or mentally."