A massive project to bring thousands of tourists to the north-east has been unveiled.
North East 250, which has been developed and supported by businesses across the region, will take visitors on a journey past the castles, wildlife and stunning beaches of Moray, Aberdeen and Aberdeenshire.
The route – the inspired by the hugely popular North Coast 500 and other scenic runs elsewhere in the world – will be officially launched at a tourism conference in Elgin today.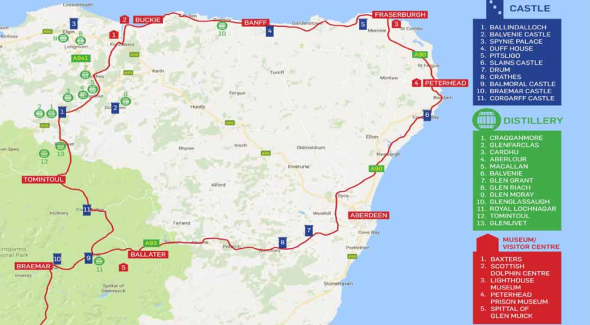 The 250-mile route will take visitors through Banff and Buchan, Speyside, and Deeside, allowing them to take in and admire the mountains, distilleries and golf courses Scotland is famous for.
With the boost in tourist numbers, it is also hoped that the project will benefit the economies of the towns and villages it passes through.
Guy Macpherson-Grant, whose family has roots in the north-east dating back to 1546, has spearheaded the development of the route.
His involvement followed calls for fresh tourism initiatives in the region and he now hopes more businesses will sign up to back the project.
The Ballindalloch Castle and distillery owner said he believed the scheme would ultimately encourage more people to visit Scotland and experience "everything it has to offer".
"I am excited by the potential of the North East 250 to bring more visitors to our area and experience, what I believe, is the very best that Scotland has to offer," he added.
"We need businesses along the route to really get behind it and help make it the success I know it can be."
The ambition of the project has already been supported by firms including Chivas Brothers and Aberdeen International Airport.
And yesterday, Jim Walker, whose family has made shortbread in the north-east for more than 100 years under the Walkers name, said: "We are passionate about the north-east and we think it deserves more attention than it gets.
"We have a short summer season and we don't get a lot of visitors, but because of that we can offer something like this for a short two or three day break that will take them through some interesting and fascinating places.
"They will see some of the best bits of Scotland and we think it will work very well for the area. There's some real gems in this area, most of which are unsung or unheard of by most people – including little villages, castles and legendary golf courses like Cruden Bay."
Oliver Lyon, meanwhile, moved to Aberlour seven months ago from Africa to take on the running of Speyside Gardens Caravan Park.
He believes there is no risk of the North East 250 failing to succeed.
"My wife and I bought the caravan site about seven months ago, and, as we've been running it, we have realised how many foreign visitors are touring the area," he said.
"This route will give people who aren't just up here for the distilleries something to follow and we're very keen to support it.
"We truly believe it's going to be a success.
"We've just returned from Africa after living overseas, and this coastline has some of the most beautiful scenery in the world – I just think it's slightly under advertised as is."
Tom Campbell, managing director for North Coast 500, also voiced his support for the initiative.
He said: "It goes without saying that we, at NC500, wish every tourism initiative well as they showcase what Scotland has to offer visitors."
Jo Robinson, VisitScotland's regional director, said: "This exciting new route is a welcome asset to the north-east and will, we would hope, simulate the success of other similar routes around Scotland.
"This area has arguably the best scenery, landscapes and views in Scotland and we would anticipate that the introduction of such a route will bring economic benefit to the area and its tourism businesses through increased visitors."
Eventually, visitors taking part in the North East 250 will be able to acquire a souvenir passport which can be stamped as they tick off destinations and landmarks included in the route.
Moray MSP Richard Lochhead has previously campaigned for a tourist route through the region to follow on from the success of the NC500.
Last night, he said: "There is no doubt that visitors are looking for a unique experience as the very successful North Coast 500 and I welcome any attempt to join Aberdeen City and Aberdeenshire to bring more tourists to the area.
"We have everything to offer, such as distilleries, castles, coastline, golf and angling to our rich heritage and history.
"Hopefully, one day we might even have a specific Moray and Speyside route that can be promoted in its own right with buy in from many different businesses and organisations in the area, as well as being part of the North East 250, so that people can be encouraged to stay for a week or so."
David Duguid, MP for Banff and Buchan, said: "The north-east boasts some of the most beautiful scenery and rugged coastline anywhere in the UK and I very much welcome these plans.
"My own Banff and Buchan constituency, which accounts for a large part of the route, could benefit hugely from the potential influx of tourists and global exposure from this venture.
"The success of the North Coast 500 has been well-documented and I think something similar in this area could provide a real boost to the local economy.
"While the plans are still at a relatively early stage, I think this has the potential to be a real success story for this region."
Itineraries for the North East 250 are available on the route's website at www.northeast250.com
Following in the footsteps
The North East 250 follows in the vein of other famous driving routes around the world.
Route 66, the most famous of them all, is a 2,400-mile journey from the west coast of the US which attracts thousands of tourists from across the globe each year.
But closer to home, a project similar in scale to the North East 250 has been running since 2015 in the Highlands.
The North Coast 500 (NC500), which takes motorists through Inverness, John o'Groats and Dingwall, has been routinely praised by tourists and tourism boards for breathing fresh life into the area.
And since it was launched, economies in communities it passes through have flourished.
Traffic on the route itself has risen by 10% since 2015, and accommodation providers have had a steady increase in trade.
In its first 12 months alone, there was a 26% rise in the number of visitors to areas involved in the route.
A study carried out by Glasgow University found that 29,000 people had toured the route and added £9million to the local economy in its first year.
The Inverness Chamber of Commerce expects that to rise to £10million by the end of 2017.
Aberdeenshire MP Andrew Bowie now hopes the north-east can experience similar growth.
"The North Coast 500 has been a phenomenal success, and is now regarded as one of the best coastal road trips in the world," he said.
"The idea of a north-east version would garner a great deal of support, I'm sure. We have scenery that is second to none, beautiful coastal villages and a host of attractions along the way including distilleries, golf courses and fantastic restaurants."