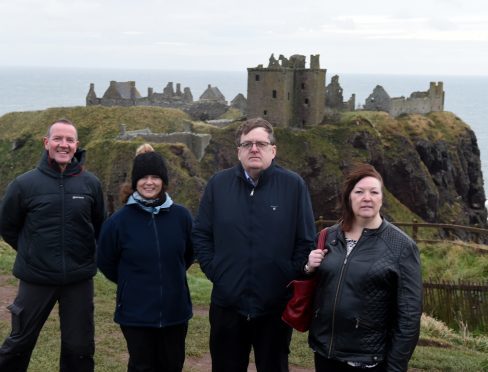 It is one of the most instantly recognisable locations in the north-east, but supporters of one of Aberdeenshire's most iconic landmarks feel "let down" after it was omitted from an ambitious new tourist route.
Stonehaven's Dunnottar Castle has featured in some major film productions such as Brave, Victor Frankenstein and Hamlet, but has not been given a starring role in the newly launched NE250 route.
VIDEO: North East 250 backed as route to success for tourism
Having welcomed more than 100,000 visitors this year already, curator of the attraction Jim Wands last night said he was surprised that no one had approached him about the plans. He said: "Anything bringing in visitors into the north-east is great and it will be good for the area – but it has to be for the whole area."
Stonehaven hotelier and Business Association spokeswoman Sheila Howarth agreed. She said: "We are supportive of it for the same reasons, but disappointed and very let-down that the number-one tourist attraction in the area hasn't been included and that the coastal gem town of Stonehaven had also been omitted.
"Hopefully people will realise that they could come down to Stonehaven and then go from there to Banchory as planned on the Slug Road."
The NE250 was unveiled yesterday by Guy Macpherson-Grant, who owns Ballindalloch Castle in Speyside, and is hoping it will emulate the success of the popular NC500 route in the Highlands and boost local economies.
Statistics from the North Coast 500 Route showed earlier this year the Highland road had generated £9million for the Scottish tourism industry and brought in 29,000 new visitors to the area.
Mairi Gougeon, MSP for Angus North and Mearns, believes there have been some "startling" omissions on the new route and is writing to ask for it to be changed. She said: "The A92 coastal road from Montrose to Stonehaven has some of the most stunning scenery you will find anywhere in the country.
"You have the incredible St Cyrus; home to a National Nature Reserve that welcomed a humpback whale off its coastline in the summer.
"Stonehaven would surely be the ideal stopover place for tourists on the route as it has greater capacity for accommodation. Not to mention the fact that it is home to Dunnottar Castle, one of the most visited sites in Scotland and neighbouring Fowlsheugh, home of the puffin colony."
North-east MSP Liam Kerr agreed that Dunnottar Castle was a "glaring omission" and hoped work could be done to include it.
Mr Macpherson-Grant last night said he hoped the mapped out road would not be definitive and added: "Although it has been designed as a route, we hope and expect that visitors will explore even more of the area whilst they are here and would therefore make a point of going to see attractions such as Dunnottar Castle. We launched today and have already had businesses sign up that are not on the route because they can see the potential of North East 250 to bring additional trade to communities in the north-east of Scotland."
Conservative Mr Kerr said: "Stonehaven has so many attractions for all ages and interests that its omission potentially reduces the otherwise excellent initiative of the North East 250.
"And although not every one of the north-east's historic and vibrant locales will get to feature in the NE250, Dunnottar Castle is a particularly glaring omission.
"I would hope some work can be done to include one of the east coast's most beautiful towns and a national landmark."