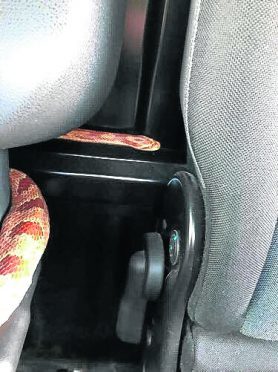 A couple received a scaly shock after finding a snake slithering about in their rental vehicle.
Susan Grayson and Shaun Powell hired a van in Aberdeen to help them move house yesterday but, after a few trips to the tip, realised they had been joined the whole time by an extra passenger.
Ms Grayson said: "We did a few runs and then went to drop off a cabinet for a friend.
"Shaun went to get back in the van and he went 'Oh my God – what is that?' and there was a massive snake slithering around the side of the seat.
"If we had been driving I don't know what would have happened.
"We got such a fright because it's quite an unusual thing to find in a van.
"I'm absolutely terrified of snakes, even a spider is bad enough.
"I was shaking when we saw it because we didn't know if it was venomous."
By the time the Scottish SPCA had arrived, the corn snake had disappeared back into the van's dark crevices.
This left just one option: tearing the vehicle apart to try and rescue it.
Animal rescue officer Kyle McWhirr said: "I was expecting to just pick up a stray snake, I wasn't expecting it to be quite within the structure of the van so it's all a bit beyond me.
"Corn snakes can get absolutely anywhere so it could be quite a job finding him.
"The good news is he's totally harmless so there is no risk to anyone."
The couple were told by Hertz that someone had reported a snake missing after using the van several months ago, and theorise that he has been hitching rides in the vehicle since then.
"That is very possible," Mr McWhirr added.
"Snakes can survive a long time without food or water so he could have been living in there quite easily.
"The van has been run today so the engine is still warm so he will be wanting to stay within there, probably towards the front of the van.
"There's not much risk of him coming back out at the moment – which is kind of the problem."