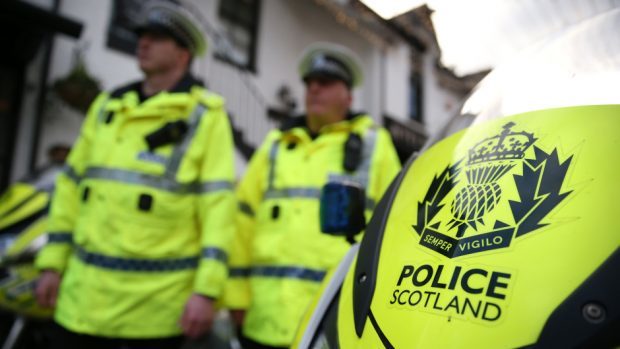 Police Scotland have been told by a watchdog that they risked breaching the human rights of Pro-Palestine activists in Aberdeen after a string of complaints relating to peaceful protests and privacy.
The Police Investigations and Review Commission (PIRC) upheld three complaints against the force made by Scottish Palestine Solidarity Campaign (SPSC).
One involved an officer turning up unannounced at a workshop for activists at a cinema in April last year, and another involved two officers attending the home of an activist and quizzing him on his intentions before instructing him not to attend a protest at Union Square a month later.
A third was made after officers requested personal details of people leafleting in July 2016.
Now Professional Standards Department (PSD) officers from another part of the country have been assigned to re-examine the complaints.
The SPSC have made several protests against cosmetics company Jericho, which has stands in Union Square and the Trinity Centre shopping centres, claiming that their products use Dead Sea minerals illegally extracted by the Israeli authorities from occupied Palestine territories.
Israeli businessman Nissan Ayalon however says the protests against his operation are anti-Semitic and feels he is being forced out of the city.
PIRC made clear in its findings that "the police cannot impose conditions on the location of a peaceful protest that effectively negate the purpose of the protest."
It said the force's contention in response to a complaint that it attended one of the group's meetings only to offer support and answer questions was "not consistent" with the evidence.
Records showed the sergeant concerned had gathered information about the group – including an individual's personal details – that was then recorded on police systems.
PIRC ordered that the complaint be looked at again independently specifically to look at whether the actions were lawful, necessary and not in breach of human rights.
The report showed that police dismissed the complaint that they had told an individual not to protest but that an incident report records that he was "warned not to protest" at either shopping centre.
That "provides significant support" for the protesters' allegation, the watchdog concluded, calling again for a fresh probe including whether the individual was told he was legally required to provide information.
It said the police should "give very careful consideration" to whether being warned not to protest was a breach of his rights.
It was deemed by PIRC that three other complaints were handled appropriately by the force, including one relating to members being refused entry to the Aberdeen Sheriff Court hearing of member Alister Coutts, who faced charges of racial abuse towards Jericho staff in August last year.
Sofiah MacLeod, national chair of SPSC said: "We welcome the PIRC conclusions and await a further response from Police Scotland – in the meantime, we call on all those who value free speech and the right to protest to take steps to ensure that institutions and public bodies are not used to protect the actions of a rogue state and its violations of human rights and international law."
Chief Superintendent Alan Speirs, head of professional standards at Police Scotland, said: "Police Scotland is in the course of responding to the PIRC over this issue, and will do so within their timescale. It would therefore be inappropriate for us to comment at this time, however we can confirm that PSD officers from a different part of the country are undertaking the reconsideration direction."