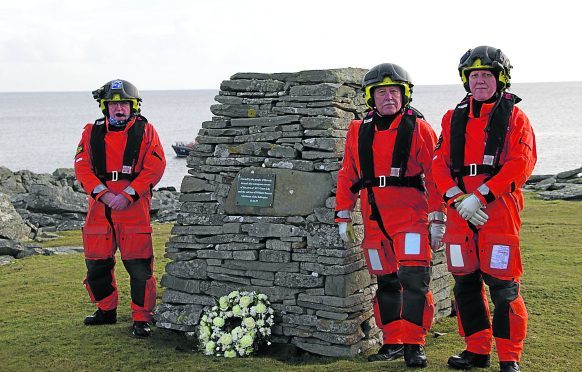 One of the most dramatic rescues in Shetland's modern history was commemorated this weekend with a wreath-laying ceremony at the site of the grounding of the Green Lily off the island of Bressay.
Helicopter winchman Bill Deacon, of Ellon, was killed when he was swept overboard after helping 10 crewmen off the stricken vessel in a force 11 storm, on November 19, 1997.
Wreaths were simultaneously laid at the site of the grounding and at a nearby cairn that was erected by the people of Bressay to mark the 20th anniversary of the courageous rescue.
Mr Deacon's son, Alan, laid the wreath from the Lerwick lifeboat team yesterday.
He said: "It brought a lot of memories back. Twenty years feels like yesterday. But I feel really, really proud of what my dad did, and I miss him.
"I would like to thank the people of Shetland for remembering him all these years later."
The Green Lily sailed from Lerwick harbour into a worsening south easterly storm, laden with a cargo of frozen fish bound for West Africa, on November 18.
But a day later, and only 14 miles off Bressay, she suffered engine failure and was drifting ashore.
The massive rescue effort, involving a coastguard helicopter, Lerwick lifeboat and three ocean-going tugs, ultimately failed due to the appalling weather conditions.
By early afternoon, shortly before the 344ft-long vessel hit the rocks at the east coast of Bressay, five of the 15 crew were plucked from the vessel by Lerwick lifeboat, while the remaining 10 personnel were airlifted by the coastguard helicopter.
Tragedy struck when the helicopter's hi-line became snagged in the rigging of the heavily rolling vessel, shortly after the last two survivors were being winched up.
At the same time, the helicopter crew became aware that Mr Deacon was no longer on the heavily rolling deck of the Green Lily. Unable to free the helicopter, the crew had no option but to cut the line.
Hewitt Clark, who was at the helm of Lerwick lifeboat that day, said at that time the Green Lily crew should have abandoned the stricken vessel when he told them to, which might have produced a different result.
Islander Kenny Groat, who watched the drama unfolding, said: "The full reality only hit once you heard that there was a loss of life."
Fellow islander and journalist Jonathan Wills added: "The winchman was a hero. The conditions were terrifying, particularly after the ship hit the rocks.
"But he stayed on board until he had made sure everyone else was safe. He really did give his life for those crewmen."