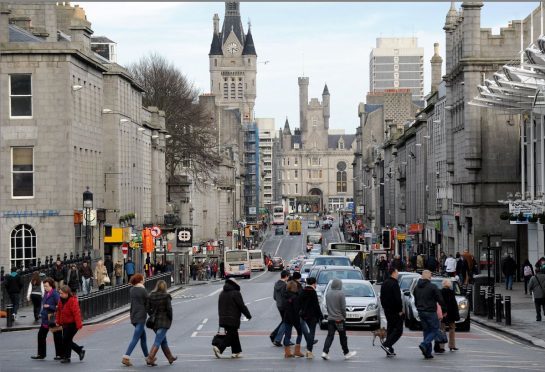 Businesses all along Aberdeen's Union Street have been urged to take advantage of a new multimillion pound fund to help make the Granite Mile sparkle once again.
Grants are now available for businesses and organisations to help them scrub, clean and repair their historic buildings to restore them to their former glory.
The new scheme has been organised by Aberdeen City Council, after it was awarded a £1.17million grant by Historic Environment Scotland earlier this year, as part of the council's 25-year city centre regeneration masterplan.
The local authority has matched the sum, and with the additional support of £50,000 from city centre improvement group Aberdeen Inspired, the total cash available is more than £2.4million.
Areas covered by the scheme include Holburn Junction and the Castlegate, and subject to criteria, grants will cover up to 60% of repairs and 75% of shop front improvements required with owners expected to meet remaining costs.
Councillor Marie Boulton said: "The city centre masterplan belongs to everyone and through a partnership approach we are transforming Aberdeen's heart.
"Aberdeen City Council is delighted to be launching this scheme after receiving support from Historic Environment Scotland and Aberdeen Inspired.
"We are looking forward to working with the owners of historic properties to restore our built heritage for the benefit of the whole city.
"The scheme has the potential to stimulate significant long-term investment in Union Street by paving the way for occupancy of both vacant commercial units and vacant upper floors, potentially for residential use."
The grants will come with certain conditions – including a commitment to future maintenance of properties.
Adrian Watson, the chief executive of Aberdeen Inspired said: "Aberdeen Inspired is committed to supporting this £2million plus project that will effectively offer businesses the financial impetus to look seriously at restoring and enhancing their buildings on our main thoroughfare.
"We all know that the issue of Union Street's current state is one that provokes much debate, here is a very real opportunity for the owners to grab the initiative and realise more of the potential that this historic and great street offers."