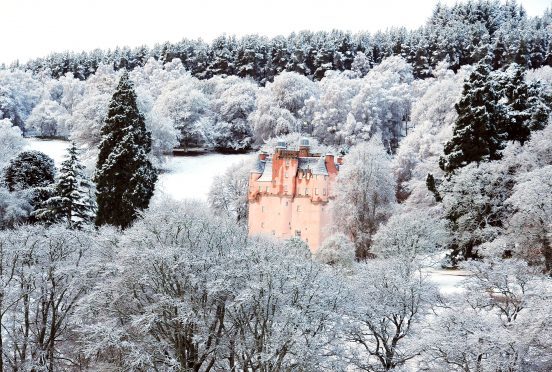 A photographer claims his life has been made "hell" after he was accused of holding a nude photoshoot in a north-east castle without the owner's permission.
Snapper Howard Kennedy and his wife Karen are suing the National Trust for Scotland (NTS) for up to £50,000 after a row broke out over the 2012 shoot in Craigievar Castle.
They went on to advertise prints of model Rachelle Summers in the 15th century castle for sale online all over the world.
However bosses at the National Trust for Scotland objected, claiming their staff had not granted permission for the shots to be taken.
The heritage group issued a statement after receiving a complaint from Gabriel Forbes-Sempill,, the daughter of Lord Sempill who gifted it the property.
It claimed the photographs were "unauthorised" and that "the Trust would never sanction photographs of this nature – especially at a location that is regularly visited by families with children".
"There is no evidence to suggest that permission was granted to the photographer responsible to make use of the castle," said NTS at the time, adding that it was "considering legal action against those responsible."
Mr Kennedy however is adamant that he acted entirely properly.
He insists he agreed a "contract" to shoot at the castle with a member of NTS staff and paid £200 for the use of the building.
The photographer says the claims made about him by NTS were untrue and damaged his professional reputation, causing his business to nosedive, and is now suing for up to £50,000 in libel damages.
A preliminary hearing was held at London's High Court yesterday, presided over by Sir David Eady,
Greg Callus, for Mr Kennedy at the preliminary hearing, argued that the case should be decided by an English judge as the photographer's "substantial business reputation in England" had been damaged.
In the English courts, the claimant would have the potential to win "higher damages" and use no-win no-fee lawyers, the judge was told.
NTS however insists that the case should be decided in a sheriff's court north of the border, where the events complained of took place and nearer to the homes of potential witnesses.
Sir David reserved his ruling on where the case should be heard until a later date.
Last night Mr Kennedy said: "The last 18 months to two years have been hell, it's been absolutely awful. Hopefully it is now going to be cleared up."
NTS declined to comment while the case is ongoing.