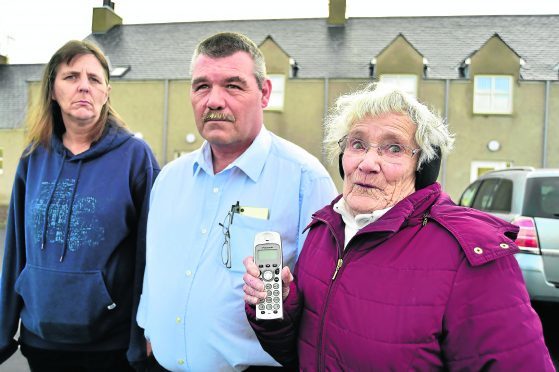 Bungling bureaucrats have left residents of a new housing development without a phone – because they can't agree whose job it is to connect them.
Eight homes were built on Old School Place in Strichen by ARD Properties, with residents moving in over the summer.
But since arriving in July, the families have been left without a phone line.
They have been asking telecommunications provider Openreach to install a telegraph pole so they could join the network.
But Openreach say they were unaware that the properties were being built as they had not been notified by the developer, ARD Properties – who say the responsibility lies with Aberdeenshire Council.
The local authority however, insist that it an issue for Openreach.
Last night, Vera Richardson said it has been a struggle to get the line installed over the last four months due to the lack of infrastructure – leaving her to worry about her elderly mother Violet Maitland.
She said: "It has just been one thing after another.
"My mum is 90 plus and she can't really work a mobile phone.
"If she can hear the phone she will answer it, but nine times out of 10 she doesn't and we have to go and check on her all the time."
Greg Pearce, who lives in the development with his wife, said that not having an active line is hitting him in the pocket.
He said: "Because of the work I do as a bus driver and trade union convener I do an awful lot of emailing shop stewards and everything else.
"At the moment it is costing me an arm and a leg as I am using mobile phone data."
Sharron Taylor, who is originally from New Zealand, is struggling to contact her relatives back home including her mother, who has dementia.
"I would like a phone line for Christmas so I can Skype my parents.
"We are absolutely desperate."
An Openreach spokesman said: "Openreach was unaware that these homes were being built because the developer hadn't registered the work with us.
"We have now visited the site because residents there have asked for service.
"We've had to obtain a number of wayleaves from the local authority but all the permissions are now in place and we're waiting for the connection work to be carried out.
"The delays could have been avoided had we been made aware the new homes were being built."
Richard Duthie, from ARD Properties, said: "It is up to Aberdeenshire Council to apply for the phone line.
"The infrastructure at the site is all in place and all Openreach have to do is connect their wires to the pole that is there."
An Aberdeenshire Council spokeswoman said: "This is an issue with BT Openreach and as such it is for them to comment."