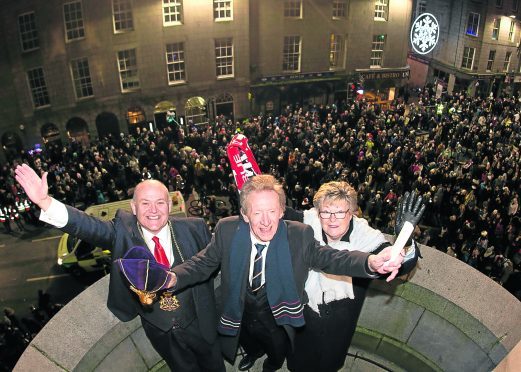 The Granite City's newest Freeman doffed his cap and waved to fans last night as they packed Union Street to see him.
Footballing legend Denis Law was awarded the Freedom of City at a civic ceremony at the Beach Ballroom on Saturday.
And last night he greeted the crowds from the townhouse balcony wearing his Freeman's hat – a Scotland cap from the SFA.
The sporting hero, who was born in the Powis area, had the honour bestowed on him during a ceremony dating back to the 18th century.
During the conferral, Mr Law signed the Freedom Roll and had the Burgess Ticket – an extract from the roll – read out and pinned to the honorary freeman's hat.
The footballer wore a Scotland cap, provided by the SFA for the occasion.
Mr Law said that after his busy three days he would have a lot to tell his friends back in Manchester and that he was looking forward to relaxing last night with a pint.
He said: "I was just amazed at the amount of people there, the last three days have been like nothing I've ever experienced.
"It was very emotional, looking around the audience and seeing all of our family and people from Aberdeen. It was a proud day for our children and grandchildren – they have never been to something like this and it was a very special event.
"I was looking forward to it but was nervous about the occasion.
"Now I'm lo0oking forward to a nice glass of Scottish beer."
The ceremony was the first to take place in Aberdeen since Scotland the What? received the honour in 2008.
Eighteen years ago, Sir Alex Ferguson was also honoured. Other previous recipients include Mikhail Gorbachev, Nelson and Winnie Mandela and Sir Winston Churchill.
Lord Provost Barney Crockett said: "The ceremony was a fantastic occasion to honour an incredible individual, a man who put Aberdeen on the world map and who has never forgotten his roots.
"He will always be recognised a hero for his sporting achievements, but Denis is also a charity figurehead and has been a driving force for the efforts of the Denis Law Legacy Trust in Aberdeen. Through the trust he is making a lasting difference to the lives of young people in the city and he deserves enormous credit for that.
"Denis Law has received the Freedom of the City and with it comes the best wishes and goodwill of everyone in Aberdeen."