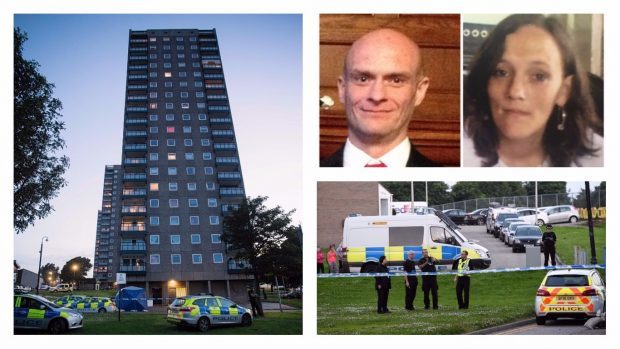 Police spent more than three minutes attempting to talk a double killer out of throwing himself from a 12th floor balcony, a watchdog investigation has found.
The Police Investigations and Review Commissioner (Pirc) found officers acted "appropriately and with professionalism" when they were confronted with the grim scene in Tillydrone last summer.
Aberdeen double-murder suicide: Who were the people that died?
On July 19, 2016, four officers were called to a tower block at Donside Court, Tillydrone following concerns from neighbours who had heard screaming from a 12ft floor flat.
Inside they found Keith Taylor, 44, lying on a sofa with stab wounds.
They also saw Hugh Gallacher, 56, stood on the balcony with blood on his hands, who shouted to the officers that he was responsible for what happened.
While two officers carried out CPR on Mr Taylor, the others attempted to calm Gallacher and persuade him to come back inside.
They had to engage him through an open window as the balcony door had been blocked with furniture.
However the Pirc report notes that he told officers: "If they're dead, I'm joining them."
Gallacher then slammed the window shut, made his way through the safety netting, and jumped to his death.
The officers then found Tracy Gabriel, 41, on the balcony and carried out first aid, while attempts to save Gallacher's life continued on the grounds outside the tower block.
All three involved died from their injuries.
Following the incident the Crown Office referred it to Pirc for an investigation focusing on the circumstances surrounding the death of Gallacher and the interactions between him and the officers.
It has found that the police staff at the scene "acted appropriately and with professionalism".
Nearby residents told investigators that there was no physical contact between Gallacher and the officers, and that they were "calmly trying to diffuse the situation."
Commissioner Kate Frame said: "The call to Police Scotland was categorised correctly and officers were dispatched to the scene within the required five minute timescale.
"It is clear that officers attempted to persuade Hugh Gallacher to come back into the flat from the balcony but had limited opportunity to prevent him from completing his stated intention of suicide.
"They were confronted with very difficult circumstances but dealt with them appropriately and with a high degree of professionalism."
North East Divisional Commander Chief Superintendent Campbell Thomson said: "I acknowledge the outcome of this review by the Commissioner into what was a completely tragic incident that deeply affected one of our local community's.
"In common with the Pirc review, I recognise the professionalism of our officers who attended at the time and the appropriateness of their actions when faced with an extremely challenging and difficult set of circumstances.
"Our thoughts continue to be with all those families involved."