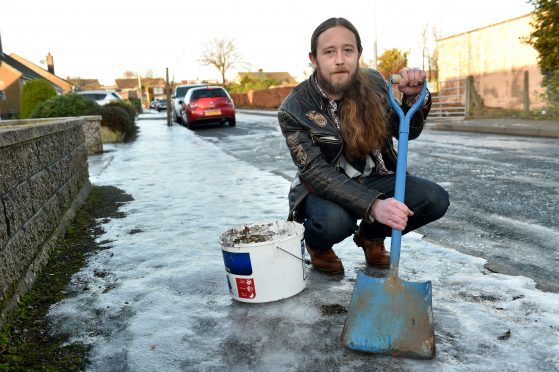 A good Samaritan who has spent his days off gritting pavements for old folks homes and vulnerable people has called on others to do their bit amid fierce criticism of councils' response to the icy weather.
Aberdeen City and Aberdeenshire Councils have come under fire for being underprepared to get snow and black ice cleared from streets.
A big thaw is expected to start today, with no weather warnings in place and temperatures expected to average between 2 and 5C between today and Friday.
However several roads and pavements remain covered in ice days and more cold blasts are on their way over Christmas and New Year.
In Aberdeen, Union Street and Rosemount are among the council's main priority routes, but several people have vented their fury online having been hurt slipping on the ice.
Aberdeenshire Council did finally get out to one of the worst hit roads, Balmoral Avenue in Ellon, but locals were still furious that other rural roads had been left.
Colin Gibson, who runs his own tiling business, has been gritting pavements in Ellon and Aberdeen after offering his help on social media.
He was inundated with pleas, and has even had members of his staff join in.
The 30-year-old believes people need to chip in where they can.
He said: "I've had about 30 or 40 people get in touch. I've been doing around Bridge of Don, near Asda and I'm going to be doing around Craigiebuckler and Ellon.
"I've tried to get to old folks homes and were people are a bit more vulnerable. I think people should try and do their bit where they can."
He added: "Personally I think they (the councils) could have been better prepared. I've seen in Aberdeen they have made the top priority areas Union Street and Rosemount. I was working up in Rosemount last week and some of the streets have ice that's about two-and-a-half inches thick.
"In places like Bridge of Don, there are a lot of old people. Some aren't fit enough to carry their own shopping, never mind going out sweeping their own driveway. Sometimes you can't expect folk to clear their own driveway."
Aberdeen City Council said the main roads and footpaths are prioritised, and urged people to call 01224 241551 for grit bin refills and deliveries of community salt bags.
Aberdeenshire Council said that the thawing and re-freezing means gritters had to go back and start again on priority paths and roads. The authority also urged people to report any road faults or request grit bin refills online at
online.aberdeenshire.gov.uk/apps/roadfaults/