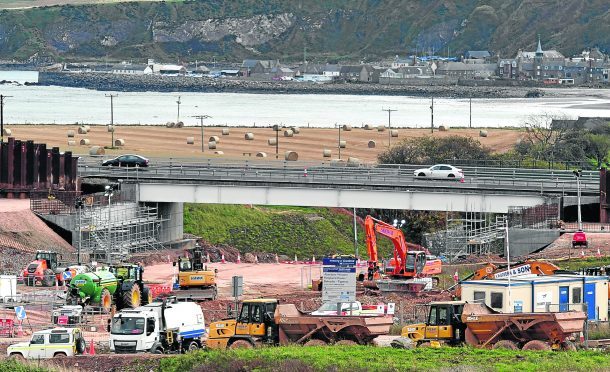 Hard-working bypass construction staff have been told they will be landed with covering their own costs of accommodation, just days before Christmas.
As many workers have moved to the north-east from all corners of the country to help build the £745million AWPR, their housing costs have been paid by the consortium responsible for the project.
For the past two years this has included the period over the festive break, where workers are allowed to down tools for a fortnight, rather than toiling away in sub-zero temperatures.
But on Monday they were made aware of a shock U-turn, leaving them facing an unexpected housing bill for over the festive break.
Unite the union last night claimed the changes only affects agency staff, and not those contracted to the firms under the Aberdeen Roads Limited banner.
And one worker, who has asked to remain anonymous for fear of losing their job, said: "We are all upset by this, all the workers who have been told we're not getting accommodation paid.
"We were told at the start of this job we would be working to the same conditions.
"Some are saying they can't afford to come back after Christmas, as they've got to pay a month's rent out of two weeks' wages.
"It's an abomination."
He added: "This is a government-funded project paid for by the taxpayer.
"And this government is telling us that we agency workers are a step or two below the council and other full-time workers on this job."
John Clark, Unite regional officer, said: "We are obviously unhappy with this position.
"They have had this paid over the last couple of years and they're getting the carpet pulled out from under their feet.
"They are not getting the same terms and conditions that others are, vis-a-vis those with the major contractors."
The staff contracts do not stipulate that they should receive accommodation allowance while not working.
But in an e-mail to workers, seen by the Press and Journal, one recruitment firm manager said he had argued precendent had been set over the last two years, but that he could only take instruction from the AWPR chiefs.
Last night, a Transport Scotland spokesman said: "It is standard practice for the subsistence costs of subcontractors and agency workers to be paid only for the periods when they are working away from home.
"The terms and conditions of each individual's subsistence are a private matter between themselves and their employer and it would be inappropriate for us to comment further."