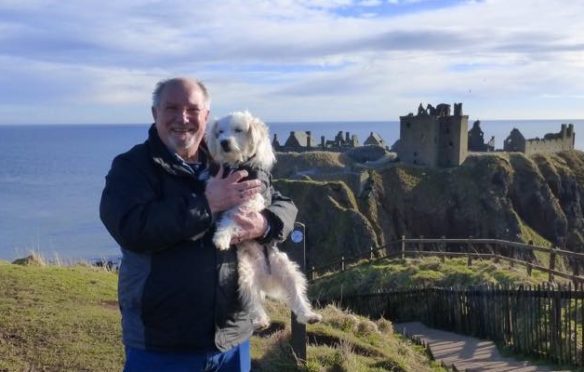 A dog destined to be killed for the meat trade in Thailand has been rescued and is now setting tails wagging after becoming a therapy pet in Stonehaven.
Thai, a Tibetan Terrier cross, was just minutes from death when he was rescued by police who raided the premises of a gang allegedly killing dogs for their fur. His body would have then been sold on to Cambodia to be used for food.
He went on to spend three years in a rescue centre in Thailand before being brought to Scotland to live with new owner David Neill, who works for charity Cornerstone helping people with disabilities and other support needs.
Mr Neill soon spotted eight-year-old Thai's potential as a therapy pet due to his gentle nature.
He said: "I was immediately struck by Thai's temperament. I just had a feeling that a particular person I support would benefit from working with Thai and when we tried it, it was a success. Thai now comes to work with me every day to visit other people I support.
"He has a lovely temperament. He's quiet and doesn't jump up or snap. His gentle manner helps engender a calmness in the people I support and they very much look forward to his visits. He is very loved by all those he meets."
Just last year, Thai was a semi-finalist at Scruftts: Family Crossbreed of the Year competition at Crufts, and was featured in a Channel 4 documentary.
Mr Neill has been so inspired by Thai that he has written and published three fantasy adventure novels involving his pet as the main character called Thai and the Ghost of Dunnottar Castle, Thai and the Legend of Gallows Hill, and Thai and the Creature of the Loch. A fourth book is currently being produced.
Cornerstone recently awarded Thai with his very own ID card, which states that he is now officially a Volunteer Therapet for the charity.
Mr Neill said: "The whole family is very proud of Thai – as well as a working dog, he is an important member of our family, along with our two cats. Although he is calm most of the time, he can be mischievous at times. He is just a lovely friend to have."