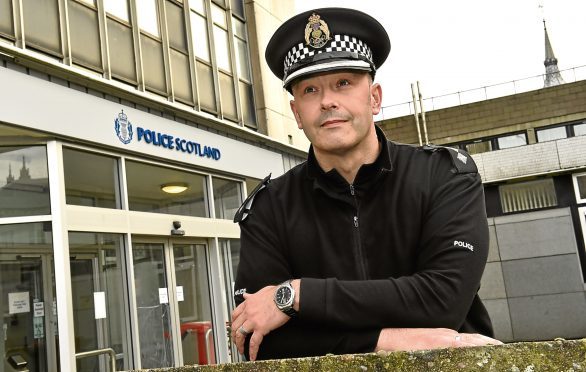 A senior police inspector has urged parents to "be intrusive" to help keep their children safe from the dangers of social media and sexting.
Inspector Colin Taylor, of the north-east division's partnerships and events unit, oversees the force's five school liaison officers, who work all across Aberdeen, Aberdeenshire and Moray, as well as its three officers who are based in schools in Aberdeen.
Throughout his 28-year career with the police, Insp Taylor has worked in a variety of different roles in communities all across the north-east, but in his latest post his days are spent educating youngsters across the region about the consequences of breaking the law.
Since the start of last year, he and his team have delivered almost 2,500 lessons to both primary and secondary school pupils on subjects such as knives, hate crime, drugs, alcohol and driving safety.
But since he started in the role almost three years ago, Insp Taylor said one of the most important topics teachers request his team give lessons on is internet safety and the issue of youngsters sending sexually explicit images, videos and messages.
He explained that although it is important for mums and dads to respect their children's privacy, there is a point where a parent's responsibility takes precedence.
He said: "By the time kids get to secondary school, almost all of them have access to internet-linked phones, social media etc.
"It used to be that it was something we encountered occasionally, but now we're finding that we really need to spend quite a lot of time in the classroom doing our 'internet and the law' input, including sexting, to educate young people about the wider consequences.
"We ask children, who is that person that you're speaking to? They claim to be such and such, but are they really who they say they are?
"Do you trust them because they've promised not to do you any harm, or share that intimate picture – but how can you be sure it's the case?
"If you fall out in a couple of months, as young people do quite regularly, how do you know they won't use that image against you?
"We're always telling young people that they have rights, but with those rights come responsibilities."
He said a lot of parents and other older people "don't really understand social media – and I include myself in that generation.
"We attend a lot of parent-teacher evenings, and we speak to adult audiences about this, and we can see as the talks go on that there are lightbulb moments for a lot of the parents.
"They suddenly realise they need to make changes to the way their children are using social media and how they supervise that access.
"We had no mobile phones, then suddenly we had phones we could text and send e-mails from, and now we've got smartphones and laptops that are basically supercomputers.
"We urge them to respect the privacy of their child, but at the same time, that respect goes up to a point where you have to be intrusive in order to keep them safe," added Insp Taylor.
If you have concerns about your children's use of social media or sexting, phone the police on 101.
Sexual selfie by girl, 11, shared over and over
In March sexual images of an 11-year-old girl were shared around the north-east by older children after she was lured into sending a half-naked selfie using Snapchat.
The app promises users that photographs will vanish just seconds after they have been received by other users, but in the first three minutes after the girl sent the photo, 27 people had permanently made a copy.
The child believed the picture would only be seen by one boy.
Inspector Taylor said this incident highlights the need for parents to understand how the technology their children are using actually works.
He said: "It's not like a computer game. Once the image or message is out there, it's out for good.
"You might be able to delete it in 10 seconds but by then it could have been screen-capped and shared, and it's almost impossible to get it back again."
Sexting incidents drop after sessions with pupils
Moray Council said a series of sessions working with children about the risks of sharing explicit material appeared to have been a success.
Figures released by the authority showed that 25 young pupils were caught sexting at school in two years.
There were 10 incidents of secondary school pupils sending sexually explicit images or texts during 2016-16 and in 2014-15 there were 15 reports of similar activity in secondaries – and one in a primary.
In the 2016-17 school year however, the number of reported sexting incidents dropped to zero.
A Moray spokesman said: "Following the increase in incidents of sexting in previous years, we ran a series of sessions in schools to discuss the impact and risks associated with the practice."