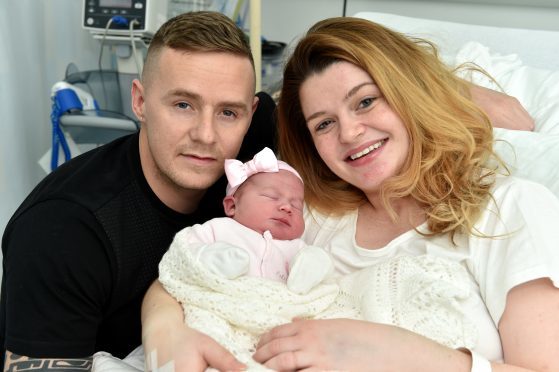 One north-east couple received a late Christmas present in the form of their 8lb 11oz bundle of joy.
Little Harlo Hepburn, the second child of Ashley Neilson and Dean Hepburn, had been due to enter the world on December 22.
However, the Peterhead couple instead had to wait until 5.36am yesterday morning for the rosy-cheeked tot to make her presence felt.
Mr Hepburn said that Harlo being born on New Year's Day made the occasion "even more special".
The 28-year-old offshore inspector added: "We are delighted at how it turned out, she will never be shy of a birthday party that is for sure."
Miss Neilson, who works as a hairdresser, was taken to Aberdeen Maternity Hospital on Saturday afternoon.
While the rest of the nation prepared to celebrate the end of 2017, she went into labour at 11.30pm on Hogmanay.
Miss Neilson said she had worried that Harlo might arrive on Christmas Day, disrupting the special day for their two-year-old boy, Kol.
But she added that Kol had been buzzing with excitement at the prospect of meeting his new playmate.
The 25-year-old said: "We were expecting a Christmas baby originally.
"We spent Christmas Day with my family and it was a bit unsettled, because I was scared I was going to go into labour.
"Kol has been excited about getting a new sister though."
The first baby to arrive in Aberdeen this year came just 36 minutes into 2018.
Harlo was the second infant born at the hospital, and she was followed by more babies at 7.30am and 9.50am.