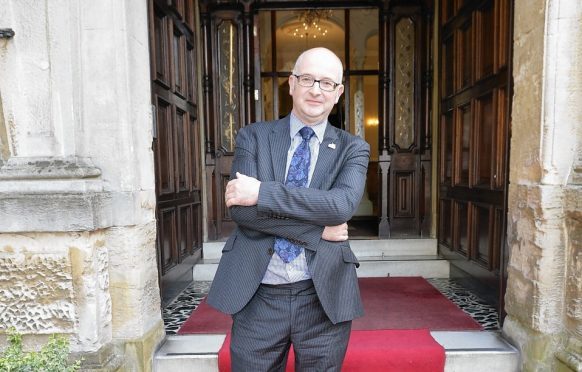 The man tasked with leading Aberdeen's ambitious multi-million pound city centre "masterplan" has left the local authority and won't be replaced, council chiefs confirmed last night.
Marc Cole was hired by the city council in January 2016, reportedly on a salary of £103,000 a year, to drive forward the massive regeneration project of 49 different schemes.
Among his responsibilities were revamping Union Terrace Gardens and part-pedestrianising Broad Street.
But under a shake-up of the council's senior management structure there will no longer be a specific directorship overseeing the blueprint – estimated to run to £1billion of investment.
Opposition leaders warned the move would compound problems delivering the improvements – but the administration insisted they were not "turning their backs" on the masterplan.
At a full council meeting in August, the opposition SNP and Liberal Democrat groups demanded that senior roles for both the masterplan and education were retained as part of the shake up.
A council spokesman said: "Marc Cole left the employment of Aberdeen City Council at the end of 2017.
"The post of city centre director is being removed from the management structure in line with the new target operating model (TOM), which was approved at a meeting of the full council in August.
"Therefore a replacement in that role will not be recruited.
"The duties of the city centre director will be subsumed into the new functions at the heart of the TOM, with the city centre masterplan remaining a priority for the Council."
Mr Cole's online Linkedin profile still lists him as being in post and shows a long history of working in local government and the pubic sector and says he lives in York.
SNP group leader Stephen Flynn said: "Given the multitude of overspends and delays on key capital projects the resources available to deliver the masterplan are becoming ever more scarce.
"There is a danger that the loss of Marc will only compound these difficulties and folk will rightly be questioning whether that is something we can afford at a time when we do need to transform the city centre."
Council co-leader Douglas Lumsden however said: "This is not us turning our backs on the masterplan, far from it.
"Marc has brought the plan to a certain level and now we are passing it onto new people, with different skills, to get these projects off the shelf."