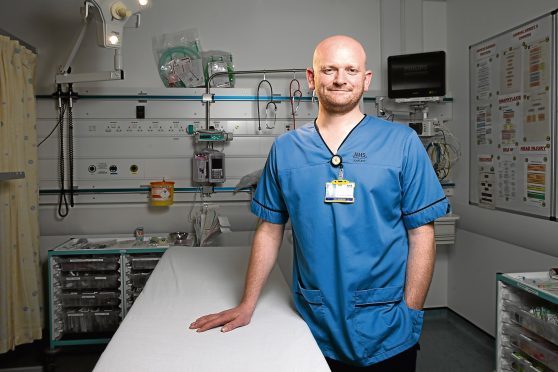 Drew McDonald has potentially saved thousands of lives since starting work at Aberdeen Royal Infirmary more than a decade ago.
This should perhaps come as no surprise for someone in the nursing profession; indeed it is part and parcel of the job.
But what makes Drew all the more extraordinary is that he has made it his mission to prevent deaths from an infection which kills more people than cancer.
He wants NHS Grampian to be "the safest" place where people, and more specifically children, can be treated for sepsis.
The life threatening condition kills more people than prostate, bowel, and breast cancer combined.
It is particularly difficult to diagnose in children, and can be mistaken for a range of common childhood viruses. If left undiagnosed, the consequences are inevitably devastating.
One in five children admitted to intensive care with severe sepsis do not survive.
Thanks to Drew, every child who passes through triage at Royal Aberdeen Children's Hospital is checked for sepsis symptoms.
Having developed a special recognition tool, Drew is hoping it will be rolled out in other hospitals across the UK.
The system has already screened more than 5,000 patients, and may be used in local doctor surgeries and community hospitals.
He admits that before the tool was introduced, he would not have considered the department "good enough" for his own children.
Now any member of staff has the necessary information to diagnose sepsis, regardless of experience.
"When I was asked to develop a tool in diagnosing sepsis, I knew the most important thing was to identify sepsis early," said Drew.
"If it is identified early, it can be treated early.
"Having the symptoms on a poster on the wall simply wasn't effective.
"You couldn't guarantee that every single member of staff would check their patient against those symptoms.
"Children in particular are notoriously good at hiding illness.
"Babies cannot tell you what is wrong and children have more subtle signs that something is wrong in comparison to adults.
"If an adult has a headache, they will explain the pain,
"Children aren't so good at doing that.
"Prior to the tool and without delving deeply into observations, you are at risk of missing a seriously ill child."
The sepsis recognition tool is based on six questions.
Staff must assess whether a child has a fast heart rate, respiratory issues, low blood pressure, a temperature, mottling of the skin, or altered mental state.
For each observation which produces a yes, a score is then added up.
It is mandatory to use the system and a child cannot pass through triage without a member of staff carrying out the observations and filling in the necessary paper work.
A major positive of the tool is that it can be used by any member of staff.
"It's obviously a very busy department and your child could be seen by a range of staff," said Drew.
"Some may be freshly qualified, some may have been working in the department for 40 years.
"It doesn't matter about experience when using the tool, because it enables staff to recognise sepsis quickly.
"You can't miss out any of the steps or send a child elsewhere in the hospital without the sepsis assessment."
Drew was recognised for his work and awarded the RCNi Child Health Award last year.
The awards, which are now open for fresh entries, celebrate nurses who go above and beyond.
But Drew's crusade was never about recognition and he believes there is still plenty of work to be done.
"Prior to the tool, the department wasn't good enough," he said.
"I wouldn't have wanted my own children treated here, now I'm proud for any child to come through the doors knowing they will get the best care possible.
"I want to make NHS Grampian the safest area in Britain with the lowest death rate from sepsis.
"That is my big plan.
"We really need to push knowledge of sepsis in the community, and advocate the use of the tool by GPs and paramedics.
"Local community hospitals also need to have the necessary drugs and antibiotics to treat sepsis.
"If a patient is properly assessed, you can avoid avoidable deaths.
"A patient can die within hours from sepsis, I don't want to see that happening."
WHAT IS SEPSIS?
Sepsis is a rare but serious complication of an infection.
Without quick treatment, sepsis can lead to multiple organ failure and death.
If sepsis is detected early and hasn't affected vital organs yet, it may be possible to treat the infection at home with antibiotics. Most people who have sepsis detected at this stage make a full recovery.
Almost all people with severe sepsis and septic shock require admission to hospital. Some people may require admission to an intensive care unit.
Because of problems with vital organs, people with severe sepsis are likely to be very ill and the condition can be fatal.
SEPSIS SYMPTOMS IN CHILDREN UNDER FIVE
Go straight to A&E or call 999 if your child has any of these symptoms:
looks mottled, bluish or pale
is very lethargic or difficult to wake
feels abnormally cold to touch
is breathing very fast
has a rash that does not fade when you press it
has a fit or convulsion