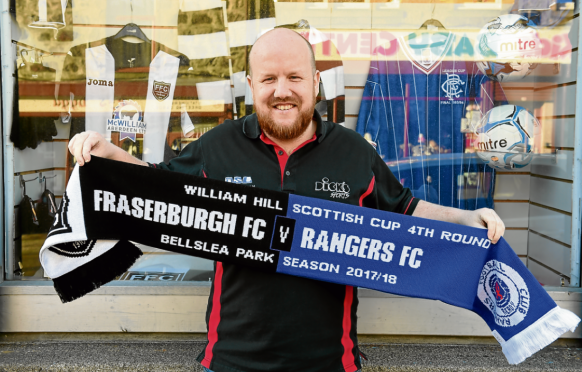 Fraserburgh FC has launched a competition to build up momentum ahead of its rearranged Scottish Cup clash with Rangers.
The Press and Journal Highland League side were due to meet the Old Firm team on Sunday afternoon.
But the fourth round tie was called off after it emerged that the Bellslea Park pitch was frozen.
The teams will meet again on Wednesday, January 31 at 7:45pm.
Now in a bid to "keep the positivity going" in the area the club is searching for the best Fraserburgh Football Club window display in town.
Shops have been putting together black and white displays to show support for their local side.
Butchers, banks, garden centres, and sports facilities have all been decked out with shirts, scarves, flags and banners.
One display at R&S Dyga Newsagent even features a Star Wars stormtrooper dressed up as a fan.
Duncan Leel, who owns Dick's Sports on Broad Street, said the contest was a "great idea".
He said: "It is almost like a thank you from the club for doing your windows up and supporting the club.
"I have actually got a half Fraserburgh and half Rangers window, so I'll be keeping mine up until next Wednesday.
"I don't think I will win because I am the only brave soul to put a Rangers shirt in my window, but you never know.
"There is a lot of sadness that the game could not go ahead, but we are all staying positive until kick off."
A spokesman for the club said: "It was bitterly disappointing our Scottish Cup tie against Rangers was postponed given the support of the community.
"However, it does give us another 10 days to keep the positivity going in the area.
"We are genuinely humbled by the support from local businesses, and want to give something back.
"To do this we are running a competition for the best Fraserburgh Football Club window display."
The winner of the contest will receive four tickets for Fraserburgh's hospitality lounge for a Press and Journal Highland League clash that will be agreed with the club.
Competitors are being asked to submit a photo of their shop window to jason.nicol@fraserburghfc.co.uk