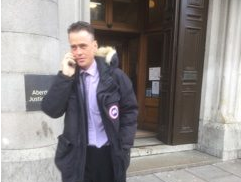 An offshore ace made redundant in the downturn has been banned from the roads after his wife reported him for drink-driving.
Paul Matheson appeared at Aberdeen Sheriff Court yesterday where his lawyer, Iain Hingston, said the 35-year-old's life had "spiralled downwards" after he lost his job.
The solicitor even took the unusual step of showing Sheriff Graham Buchanan his client's CV, to illustrate the levels of responsibility previously placed on Matheson in his high-earning oil career.
And though the sheriff stopped short of sending Matheson to prison, he ordered him to perform 200 hours of community service in the next year and banned him from driving for two years.
Fiscal Lixia Sun said that Matheson's wife spotted his red Fiat Ulysse estate parked outside a pub in Blackburn as she returned home from work at 1.30am on Sunday, December 24.
The fiscal added: "She entered the pub, found the accused in an intoxicated state and told him not to drive home.
"She later contacted the police and advised them of her fears, and when officers attended at their home they found the car parked there and the accused walking into the road – as the front door had been locked."
The court heard that when officers approached Matheson he "shouted and swore at them", and challenged one to a fight when asked to provide a sample of his breath for analysis.
Matheson, of Scotsmill Crescent, Blackburn, later admitted charges of behaving in a threatening or abusive manner to police officers and of failing to provide two specimens of breath "without reasonable excuse".
Mr Hingston said the case had provided a "shot in the arm" for Matheson and spurred him to address his issues.
He added: "My client had an extraordinary career destroyed in the oil downturn, and entered a downward spiral of drink and depression.
"His impressive CV shows that he is a man who displayed a considerable degree of professionalism, with important and responsible employment positions.
"He has now referred himself to an integrated alcohol service to receive help."
Sheriff Buchanan said: "It is very disappointing to find someone in this situation appearing before the court."