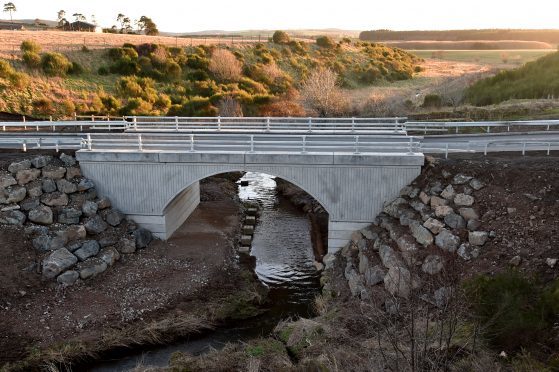 Emergency repairs have been completed to two commuter routes after days of disruption to rural communities.
On Friday the Red Burn Bridge on the B979 between Newmachar and Hatton of Fintray was found to have partially collapsed and was closed off in both directions.
Last night, the council roads department confirmed that the route had been reopened after structural repairs to the 200-year-old bridge had been carried out.
But heavy goods vehicles have been banned from using it.
Bridges and structures manager for Aberdeenshire Council Donald Macpherson said: "We will monitor the bridge weekly in the first instance to satisfy ourselves that the structural fix will hold for the level of traffic that will occur."
Councillor Martin Ford praised the quick action of the roads department and added: "Residents will be relieved to know that access has been reinstated swiftly."
The closure had added to the woes of local residents who have also been subjected to two other road closures nearby.
However yesterday another road also re-opened after the construction of the new Denmill Bridge at Kinmuck was completed after almost five months of closure.
The road links the village to the B977 Dyce to Hatton of Fintray road and had caused a 15-mile diversion for Kinmuck commuters.
An Aberdeenshire council spokesman apologised for the delay in re-opening the road, and said: "The former bridge, which was built in the 1930s, was no longer capable of safely carrying the weight of traffic crossing it every day and was demolished as a result.
"The new structure has been designed to carry modern traffic and has a design life of 120 years.
"Work on this replacement project started in August when significant excavation works were carried in order to reach the depth required to place the new foundations, more than seven metres below road level.
"We thank residents for their patience during the road closure while this new bridge was being built."
The B977 between Dyce and Hatton Fintray still remains closed, due to AWPR works, but is expected to re-open by the end of February.
Last week an RAC Foundation report showed Aberdeenshire had 63 bridges that were no longer fit for purpose – more than any other council area in Scotland.