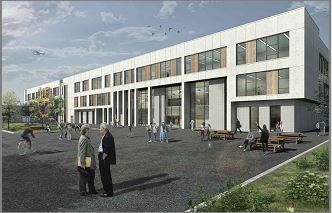 Fresh calls were made yesterday for the city council to provide free bus passes to all pupils travelling to a new secondary school.
The £46.9million Lochside Academy, which is due to open in August, will take in youngsters from Torry, Kincorth and Cove.
However, a bitter row erupted last year when it emerged free bus travel would not be provided to all pupils.
Yesterday the city council's education committee voted unanimously to give free passes to children heading to the school from Kincorth and Torry between the hours of 7am and 6pm.
The move comes after the new head teacher confirmed that all extracurricular activities at the school would be finished by 5.30pm each day.
A report recommended that children living in Kincorth and Torry were offered free bus travel due to the distance they had to travel to the new school.
However, children living in Cove could be charged for the bus service and the fare is expected to be decided at a finance, policy and resource committee meeting next week.
It has been suggested that the youths could be charged £130 for an annual pass along this route which could only be used during school term times.
A previous report suggested those living in Cove could "reasonably be expected to walk to school."
But Fleur Tarling, chairwoman of the Loirston Parent Council, said free bus passes should be available to pupils for poorer families in Cove.
She said: "I think the fact the oil price collapse has affected Cove should be taken into account.
"I think they should look at families' personal circumstances and the distance they have to travel and give some free bus passes to people in the area."
She added: "I think the proposed prices are the best we could have hoped for but I know a lot of people in Cove will be disappointed at this."
Lesley-Anne Yeats, of the Walker Road Primary School Parent Council, welcomed the decision to give free bus travel to pupils in Kincorth and Torry.
She said: "Now that we know the buses will run after extracurricular activities have finished we are absolutely delighted.
"It's something we have campaigned for ever since the plans for the new academy came into place.
"We're still waiting for clarification from the council about bus routes but we're glad free buses have been approved."
She added: "It's not just for Torry, we believe all children should be able to get the bus free to school and would want this in Cove too."