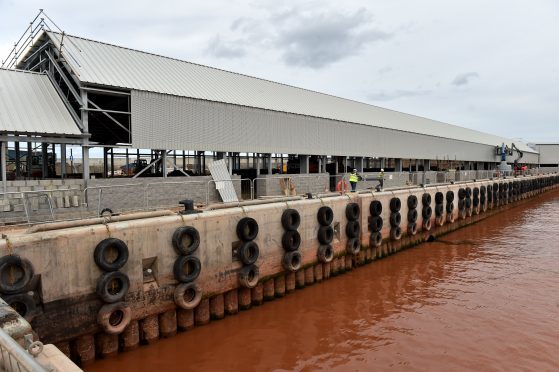 Councillors have backed new road safety measures as part of a multimillion pound harbour development at Peterhead.
Peterhead Port Authority is currently working on the £50million project, which includes deepening the inner harbours and building a new fish market.
Council officials have been concerned the development could lead to increased traffic in the area.
Members of the Buchan area committee discussed the plans for new traffic measures at a key junction in the town yesterday.
It includes plans for new parking and waiting restrictions on the Seagate, Peterhead, near Roanheads West junction.
There will be new traffic restrictions at the junctions of Seagate, Roanheads and Great Stuart Street and existing restrictions on another stretch of road close to the junction would be eased.
The proposals received the full backing of the committee.
Peterhead North and Rattray councillor Alan Buchan said: "I fully support the plans as this is long overdue."
He was backed by his fellow ward member councillor Dianne Beagrie.
She said: "I would echo what councillor Buchan has said. This has been needed for quite a while.
"With all the development and the traffic there really has been an issue in that corner."
Meanwhile, a leading figure from Peterhead Port Authority has said construction on the new fish market will be complete in a matter of months.
Harbour master John Forman said: "Progress for the fish market is on target and it could be completed by April, but we won't be opening it for a month or two because the marine works are still to be finished.
"We still have quaysides to complete and the second phase of our dredging is starting at the end of February.
"The main target is September when everything will be demobbed and off site.  That is what we are aiming for at the minute.
"There is quite a large amount of marine work still to be done, but you don't see that because it is at the bottom of the harbour.
"It will be biggest asset for the harbour because we can use it for the deep transit vessels."