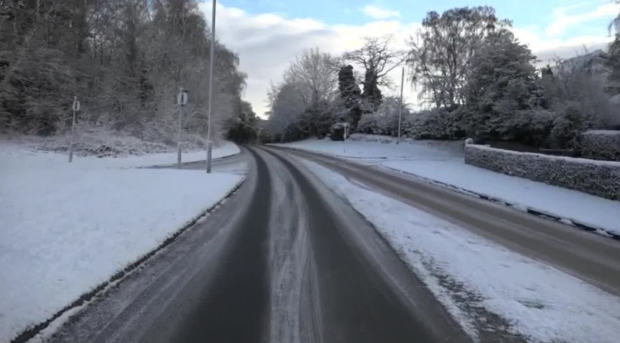 Wintry conditions returned to the north causing snow gates to be closed and one school to shut its doors.
Traffic Scotland alerted motorists that the snow gates on the A939 had been closed at around 7.20am this morning between Cock Bridge and Tomintoul. They were closed for most of the day but re-opened at 4.30pm.
Meanwhile police took to social media to warn drivers to be on extra alert today.
Certain areas may be waking up to this in the morning. Please ensure you take time to clear your car and leave in plenty of time for your journey. #drivesafe #FormartineCPT @ShireNPolice pic.twitter.com/IO9QNVqKcv

— NorthEastPolice (@NorthEPolice) February 6, 2018
In Aberdeenshire, two school bus routes have been affected while one has been closed to pupils.
Here are the schools in full:
Burnhaven School – School Closed to Pupils Only (The heating has broken down)
Glenbervie School – School Transport Not Operating ( Nicolls bus will NOT be operating on Country Routes today. School open for everyone who can travel safely to and from school.  A and I operating as normal at present. Swimming bus IS running as is main route, If situation changes parents will be notified. )
Gordon Schools (The) – Changes to School Transport Routes ( The Stagecoach 231 has broken down and an engineer is on his way. Pupils should not wait longer than 20 minutes for this bus. Log onto Glow and self study )
Meldrum Academy – Changes to School Transport Routes ( Kineil 705H – Methlick – will run its winter route today and will not run on the Burnend of Gight or Skelmonae roads. Pickup at Cairnorrie, Skelmonae road end and Methlick. )
Methlick School – Changes to School Transport Routes ( Diane's bus will pick up at Mains of Cairnorrie only this morning at 8.25 due to the road conditions around Knaven & Gowanwell )
A yellow weather warning is in place today and tomorrow for the Highlands, islands and grampian.
The Met Office alert warns that between 5am today and 10am tomorrow, sleet, snow and hail showers, some heavy, will affect western areas, with icy stretches forming overnight.
"This update extends the warning area slightly further east and also points to a reduced likelihood of medium impacts occurring. Some transport disruption is possible, with longer journey times and delays to public transport. Icy patches are likely to develop on some untreated roads, pavements and cycle paths, leading to an increased risk of injuries and accidents" it adds.
The chief forecaster's assessment reads: "Further showers of snow, sleet and hail will affect western parts of the UK, these frequent in western Scotland and the north of Northern Ireland, where thunder is also possible. 1-3 cm of snow may accumulate at low levels inland, and perhaps 5-10 cm on hills above 200m. Showers will gradually fade overnight Tuesday into Wednesday, with icy stretches developing as skies clear, particularly where earlier snow has partly melted. As is usually the case with showers, some places will miss them, while some coastal fringes may see rain or hail."