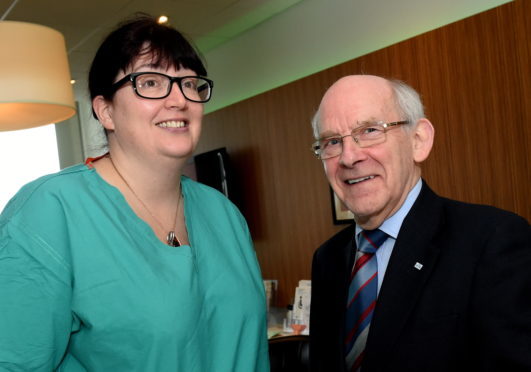 A north-east specialist believes that routine screening for prostate cancer should be introduced to "significantly reduce" death rates.
It recently emerged that the number of men dying from the disease has overtaken female deaths from breast cancer for the first time in the UK.
And consultant urologist at the Ucan charity in Aberdeen, Justine Royale, believes that the government needs to take drastic action to prevent men from succumbing to the illness.
She said: "I would like to see a screening programme introduced, in a similar way that we screen for breast cancer.
"That puts me at odds with the government, which currently recommends against screening for prostate cancer.
"But I would really like for men to be checked at the ages of 50, 55 and 60 or if abnormalities are detected during other medical appointments."
Last night, a Holyrood spokesman said procedures are "regularly reviewed" but that no plans exist for routine screenings.
Ms Royale, who is recognised as one of the country's leading voices on urology, explained that prostate cancer is "eminently treatable" if caught early.
The prostate-specific antigen (PSA) test was established as a way of detecting the disease in the 1980s, and since then the number of cases identified at an incurable stage has fallen from 40% to 20%.
The surgeon, who is based at Aberdeen Royal Infirmary (ARI), added: "We have already seen how effective this can be, so extending that test to more men would significantly reduce deaths.
"Prostate cancer is slow growing, so screening every five years would be reasonable."
However, NHS bosses remain unconvinced that the benefits of rolling out the blood test more widely would outweigh the risks.
They say the "controversial" procedure can suggest prostate cancer when no cancer exists, meaning that men "often have invasive and sometimes painful biopsies for no reason".
The health service also states that the slow-growing cancer may never cause symptoms or shorten life, forcing sufferers to make difficult decisions regarding treatment.
But a survivor of prostate cancer, George Stevenson, last night backed the creation of a screening programme.
The Aberdeen businessman, who has lost two friends to the disease in recent years, said he was convinced enacting the scheme would save lives.
The 72-year-old added: "I was diagnosed with prostate cancer in 2006, but it was only caught because I underwent a medical when taking out an insurance policy.
"I had no idea what the disease was, and needed a radical operation to have it removed.
"Since then I have tried to raise awareness, as this can still be a taboo subject for men."
Mr Stevenson was instrumental in transforming Ward 44 at ARI into the Ucan cancer centre 10 years ago, by persuading colleagues in the building trade to donate labour and materials.
Its specialists treat men with prostate, bladder, penile and testicular cancer from all over the north-east and beyond.
A Scottish Government spokesman said: "Our £100m cancer strategy makes clear our commitment to increasing survival and reducing health inequalities by diagnosing and treating cancer as early as possible.
"Screening programmes in Scotland, as with other UK countries, are introduced on the basis of recommendations from the UK National Screening Committee and at the moment there is no recommendations for prostate cancer screening."