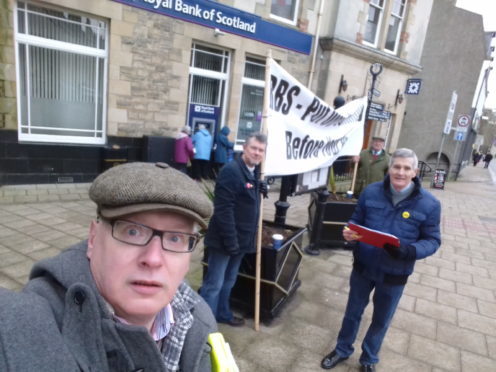 Campaigners battling to avert the closure of two north-east banks have said a decision to keep 10 branches open across Scotland has "galvanised" support.
The RBS branches in Banff and Turriff are not among the facilities which have been given a stay of execution by the lender, who will review their use until the end of the year.
But activists in the north-east remain undeterred and have issued the rallying call "the fight must go on."
Stay of execution for 10 RBS branches as Save Our Banks campaign gains strength
They took to Banff High Street on Saturday morning to rally support for both branches.
Councillor Glen Reynolds said: "Now is not the time to wait and see, but is a time to do what the public are telling us to do and carry on the good fight.
"Whilst RBS have said they are listening to local communities, cracks in the policy are showing and it is good news that 10 branches are potentially free of closure.
"The response to our petition has rocketed and this must be fed into the RBS review process, otherwise RBS will simply cherry-pick what is in the report to suit their own needs."
Turriff and district councillor Alastair Forsyth used to work for the bank and is trying to save the Turriff branch from the axe.
He added: "The determination of local people to sign our petition has not been weakened by the latest RBS announcement; if anything, it has galvanised local people's desire to keep branches open.
"People felt they could not trust the bank to be wholeheartedly open and transparent with their review findings.
"The campaign will continue and the Turriff branch is scheduled to have a visit from local councillors and other partners in the campaign to halt closures."
Royal Bank of Scotland confirmed last week that ten branches – including Castlebay on Barra, Beauly, Kyle, Tongue and Inverary – would stay open.
Bosses will monitor their use and subsequently carry out an independent review into their potential futures.
Jane Howard, managing director of RBS personal banking, said: "Having listened to the concerns of customers, communities and elected representatives, we have decided to keep 10 branches open until the end of 2018.
"During this period, we will monitor the level of transactions and new income at each branch and if there is a sustained and viable increase in both, we will reconsider the closure of the relevant branches."