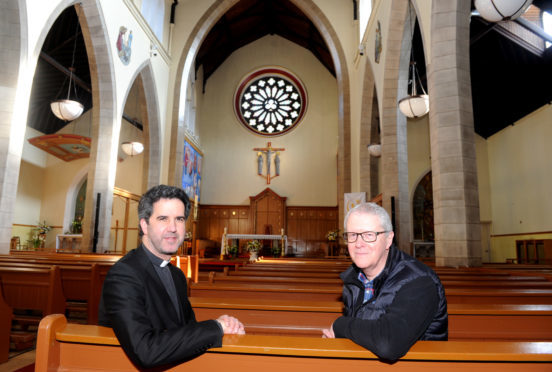 An historic Aberdeen cathedral has secured a grant of thousands of pounds for "essential" renovation.
The Cathedral Church of St Mary of the Assumption on Huntly Street, more commonly known as St Mary's Cathedral, has been gifted £74,600 from the Heritage Lottery fund.
The funding, applied for by parish manager Robin Harding, will now be used to renovate and restore the roof and rainwater drainage areas of the B-listed cathedral and investigate if any more work is needed.
St Mary's was built in 1860 with the bell tower added in 1877 – the only Catholic bell tower in Scotland.
Father Keith Herrera, the cathedral administrator, said the church family were "very pleased" to have secured the funds which will now be used for "essential maintenance" of the 158-year-old building.
He added: "We are immensely grateful that Heritage Lottery Fund has provided us with this support. "
Hugh Gilbert, Bishop for the diocese of Aberdeen, said: "St Mary's Cathedral is one of the many fine churches and buildings owed to the architectural genius of Alexander Ellis.
"It is the central Catholic church in Aberdeen, a place of prayer and worship for a large and lively congregation of considerable ethnic diversity, a location for a wide range of pastoral, social, musical and educational activities, and a tranquil harbour many visit quietly.
"I am delighted that, thanks to this grant, it will be possible to maintain this structure in good shape for the future."'
Kevin Stewart, SNP MSP for Aberdeen Central, added: "St Mary's Cathedral in Aberdeen is a stunning building, and a proud part of this city's heritage.
"Not only will this money go a long way towards repairing and restoring some of the beauty of the site, it will also boost activities to engage with people about the history of the church."