An Aberdeen dog has scooped up a starring role in Legally Blonde the Musical when the UK tour comes to the Granite City later this year.
Squire the bulldog won the pupper-tunity of a life time as he secured the role of Rufus by dazzling a panel of judges with tricks
and obedient commands.
Seven local bulldogs and pugs – with their owners – auditioned for the part of the West End musical in Aberdeen's Bon Accord shopping centre yesterday.
David Barrett, Associate Director of Legally Blonde the Musical, was on the judging panel, he said: "We were looking for temperament – we had a similar look with Bulldogs, French Bulldogs, Pugs, they've got the similar types of appearances.
"It's all about them being relaxed in a strange environment – we're not asking them to stand on their back legs and catch balls or anything.
"We just want them to do dog things."
He added: "We went with Squire because he was consistent throughout every exercise we did. He did perfectly and it was a clear decision in the end."
Squire was unavailable for a comment but his owner Cathleen Collins was very proud: "I can't believe it, I am really, really chuffed for Squire.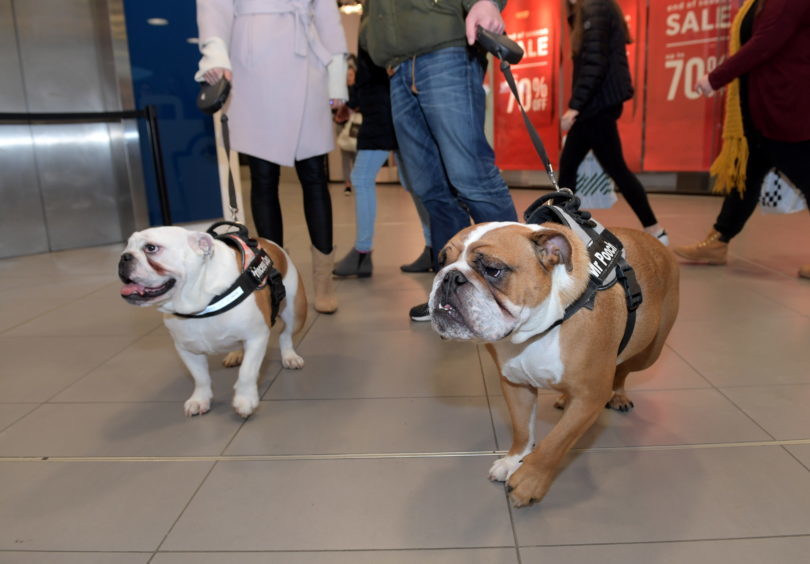 "I wasn't nervous until we got down to the last five, I didn't think we would get nominated, but that's when the nerves kicked in.
She added: "Squire is a good dog, laid back but never normally as obedient as he was today.
"We are very proud of our dog – it's a good experience but good for all the dogs as well.
Squire joins up with a cast full of celebrities including Eurovision star, Lucie Jones,  Eastenders' actress, Rita Simons and Corrie's Bill Ward.
The smash hit Broadway and West End Musical follows the story of sorority sister Elle Woods who loves to be pampered and is passionate about pink.
When she is dumped by her boyfriend for a more serious girlfriend she puts down the credit cards and picks up the books bagging herself a place at the prestigious Harvard Law School to try and win him back.
Legally Blonde the Musical will be performed at His Majesty's Theatre in Aberdeen in May.