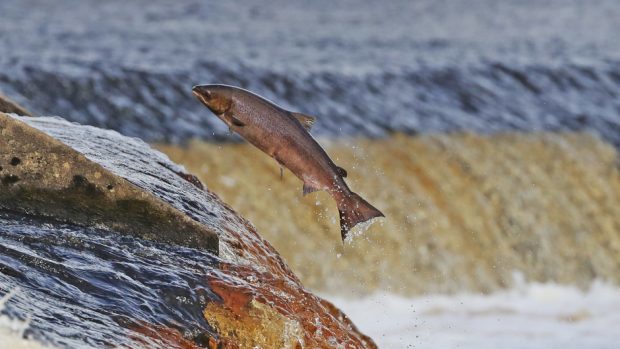 A ground-breaking project to track the "mysterious" migration routes of fish from three of the north-east's rivers is now underway.
Young salmon and sea trout leaving the Dee, Don and Ythan rivers this spring will be tagged and tracked for the next three years by the River Dee Trust after £1million of funding was secured for the task.
Working in partnership with Marine Scotland Science the trust received part of the funding from Vattenfall, owners of the European Offshore Wind Deployment Centre (EOWDC), which will be based near Blackdog.
The project involves fitting 300 juvenile salmon and 100 sea trout migrants with acoustic tags as they exit the rivers and navigate out to sea.
River Dee Trust manager Lorraine Hawkins explained that they had "very little" information about the routes the fish take to get to their feeding grounds, adding: "Most of the ocean tracking studies undertaken on salmon show their ultimate destination – for example, feeding grounds around the Faroe Islands and southern Greenland – but not the migration routes they take to get there.
"It's a mystery that requires solving, as marine survival of salmon is very low – in the order of 5%, compared to historical survival of about 40% – and the greatest losses happen early on in their ocean journey. The aim is that from learning their migration routes, this will show where and why salmon are dying at sea."
Last year, pilot work was undertaken with 60 salmon smolts captured and tagged in the upper River Dee, which were tracked to 4km offshore.
Now, around 140 receivers are being placed further out to sea at a distance of 10km to determine the direction of travel from the Aberdeenshire coastline.
Mrs Hawkins said the receivers would be moved further out each year creating a "picture of migration zones" from the rivers, adding: "Information that these tracked fish will be fed into an ocean current model developed by Marine Scotland Science, to determine the pathways that salmon and sea trout take and what influences these pathways. This will help to determine the likely interactions between migrating fish and offshore developments.
"We are constrained by how many we can position on the sea bed, so one possibility could be to use some offshore structures."
Vattenfall, the developer of the EOWDC is calling for local views on getting the most from the wind farm's £3million community investment fund and is asking people to complete a questionnaire on how best to utilise the cash.
Fill out the questionnaire here.