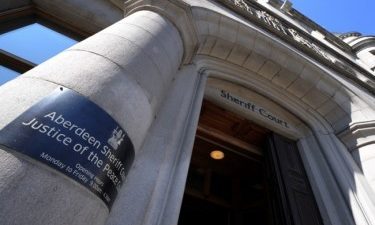 A landscape gardener went to punch a man in the face because he believed he was harassing his wife – but ended up at the wrong house and attacking his neighbour instead.
Joseph McGunnigle, who lives in the Shielhill area of Bridge of Don, in Aberdeen, saw red after his wife bought an item from another man through a social media site.
The 52-year-old claimed that the seller Scott Bruce flirted with her and sent her messages after she returned home.
Aberdeen Sheriff Court heard that McGunnigle had driven round to his home on Cairn Drive, Belhelvie, and knocked on the correct door, but when he said who he was looking for he was told to go to the next house.
When the neighbouring door was answered by a Philip Ashcroft, McGunnigle asked him his name and before he could answer punched him in the face and burst his nose in the process.
Mr Ashcroft told him he was not the man he was looking for and an apologetic McGunnigle left the property.
Defence lawyer Alex Burn claimed Mr Bruce had flirted with his client's partner and had been "sexually suggestive".
He said McGunnigle became incensed that his wife was still being messaged and he drove back to the street where he saw the real man and began berating and shouting and swearing at him.
McGunnigle admitted a charge of assault and also behaving in a threatening or abusive manner on January 26 when he appeared in court.
Mr Burn said his client intended to buy a bottle of whisky for Mr Ashcroft as an apology.
Sheriff Philip Mann ordered McGunnigle to pay a £350 fine, including £150 compensation to Mr Ashcroft.
He said: "If this was not so serious it would be quite comical."