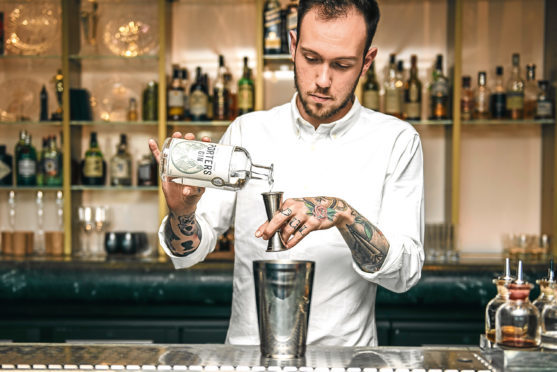 Skills honed to perfection behind the bar at Orchid in Aberdeen have helped one of the founders of Granite City-based drink firm Porter's Gin to a top honour at industry awards in London.
Alex Lawrence, who now works at London's Dandelyan bar, which is renowned worldwide for its cocktails, came away with the bartender of the year award.
On a night when most of the gongs went to some of the bars and people making a name for themselves in the capital's nightlife scene, fellow gin entrepreneur Ben Iravani said Mr Lawrence was there flying the flag for Scotland.
Mr Iravani added: "Alex's recent win is a huge lift not just for Porter's Gin but the Aberdeen bar scene and Scottish bartenders as a whole."
The bartending accolade came at the Class Bar Awards, which are now in their second year and backed by Drinks International magazine.
They celebrate the achievements, talent and diversity of the UK bar trade and are already firmly established as the "Oscars" of the industry.
Award categories recognise the bars and bartenders that set the standard for hospitality and innovation across Britain.
Mr Lawrence, Mr Iravani and Josh Rennie teamed up about six years ago to work on the first gin to be distilled in Aberdeen for more than 100 years.
The trio spent more than three years experimenting with flavours, temperatures and taste to create Porter's Gin.
It is named after Aberdeen University professor Andrew Porter, who helped them master the equipment needed for the job.
Porter's – produced by the Langstane Liquor Company – was launched in December 2015 and within a month had sold out its initial 3,318 bottle run.
It is now among a long list of craft gins on the market as the botanical tipple enjoys a renaissance.
Porter's fame reached a new level when it made it into the 100th-anniversary edition of one of the world's top fashion magazines, Vogue. Mr Iravani is the "entrepreneur and industry expert" behind the gin, while Mr Lawrence "adds his refined palate and talent for flavour precision" to the team. Mr Rennie lends a "commercial and international marketing edge", according to Langstane.