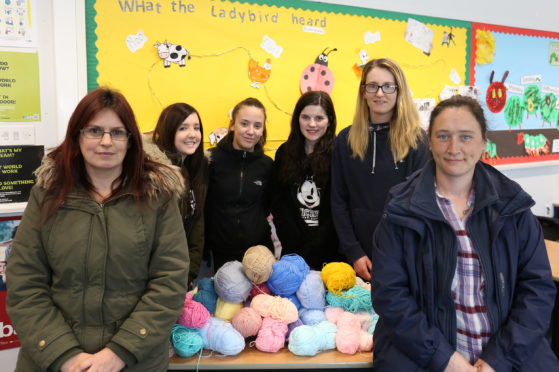 Pupils from a north-east college are appealing for help to complete a charity challenge.
Health and social care students at North East Scotland College are in the process of knitting blankets, hats and cardigans for stillborn babies which will be donated to Aberdeen's maternity hospital.
The group of six pupils launched the idea – Knitting for Sleeping Babies – as part of an enterprise unit on their course.
And yesterday, group member Joanne Kiloh asked people across the north-east to donate what they could to help complete the project.
She said: "We wanted to do something a bit different from the usual fundraising ideas and this is something that you don't really hear too much about.
"It is still a quite a taboo subject and very close to my heart – I know the donations will be very much appreciated."
In order to get their project off the ground, the group started a Facebook group and appealed for donations of knitting needles and wool online.
To date, they have managed to fill six bags with donated wool in a rainbow of colours.
Ms Kiloh added: "We've got the wool and needles, now we just need the knitters.
"Patterns can be downloaded from our Facebook page or we can send them out in the post."
Anyone interested in volunteering to help with the project can visit the group's Facebook page by searching for Level 4 Enterprise – Knitting For Babies Born Sleeping, or emailing knitting4sleepingbabies@hotmail.com