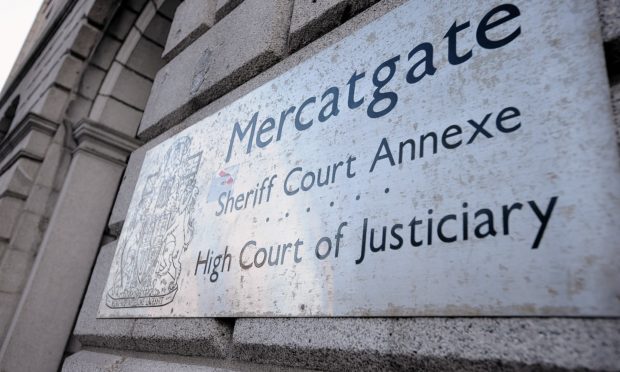 The girlfriend of a man who was stabbed to death by his best friend received a tearful apology from him just days later, a jury has heard.
Darren Riley is accused of murdering Robert Reid at 6 Arnage Place in Aberdeen by repeatedly striking him on the head and body with a knife on October 26 2016. He denies the charge.
Yesterday the 29-year-old, of Don Place, Woodside, went on trial at the High Court in Aberdeen where he lodged a special defence of self-defence.
The court heard evidence from Mr Reid's then girlfriend Jacqueline Hanratty, who lived with him at the time of his death.
Miss Hanratty, 29, told advocate depute James Keegan QC that Riley, nicknamed Canny, and her partner had been taking valium and cannabis in the hours before the incident.
She said that she had left the flat with their young son to go and stay the night with Reid's mother because they had started drinking the alcohol from her home-made Christmas hampers.
Miss Hanratty said she woke up the next morning to discover that her mother and other people had been trying to contact her because her street had been sealed off.
She said that she then returned home but could not get past the police cordon but was told by officers that there was a dead person in the property.
Several hours later she found out that it was her boyfriend that had been killed after being stabbed 21 times.
Miss Hanratty told the jury that she then managed to get word to Riley to contact her to find out what happened and he called her mother's house a few days after the incident.
She said: "He just kept saying he was sorry, I told him 'it's all good saying sorry just now but it's not just me that's lost my partner, it's my son who's without his dad.
"He said he couldn't remember what had happened but said Robert had punched him and knocked his teeth out.
"He said he got up to leave and Robert had a knife, I asked him how he had ended up with the knife. He tried to tell me what Robert had done but said he couldn't remember what he had done."
During cross-examination, defence counsel Ian Duguid put it to Miss Hanratty that Mr Reid, who had been a successful boxer when he was a younger, was a violent man who had been in and out of prison.
The witness, who had to leave the dock at one point when she was shown a photograph of blood at the scene, denied this but said he "knew how to handle himself".
"If you knew Robert like I did or like Canny did you would know he was a lovely family man who was always there for his family and his friends," she added.
The trial, before Lord Kinclaven, continues.